AMR Gold Fuse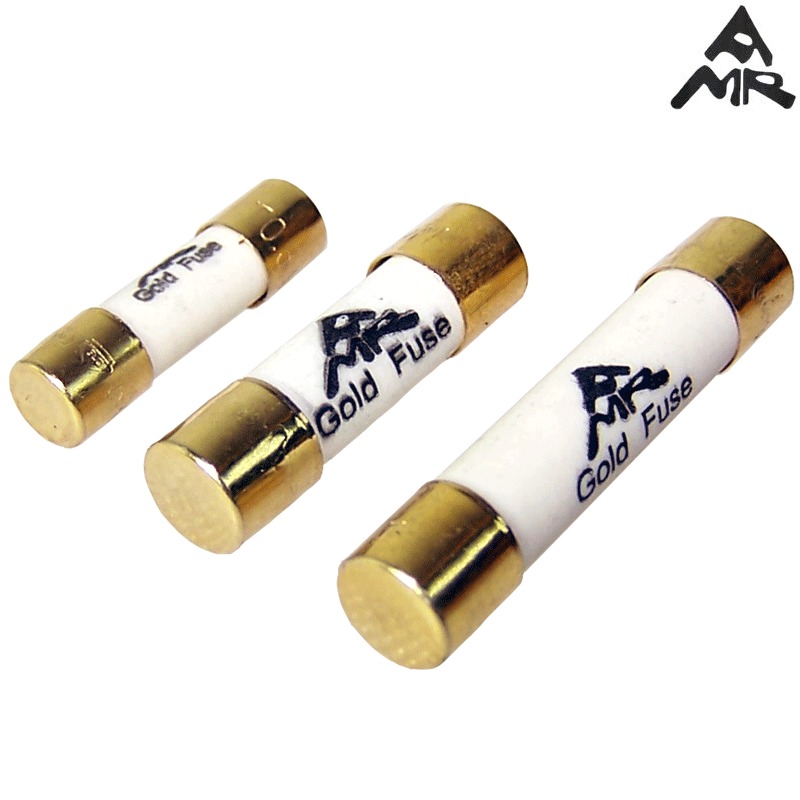 Fuse upgrades are often overlooked, but upgrade to an AMR Gold Fuse and you won`t look back.
AMR Gold Fuse Specifications:
• Silver alloy fuse wire, non-spiral, low inductance design
• Special non-magnetic, shock resistant anti-resonant ceramic body
• Gold-plated end-caps (Gold does not oxidise like Silver, hence better long-term reliability)
• Approval: UL SA PSE CE CCC
The electrical mains power supply is the "fuel" that feeds every audio or visual system. If this "fuel" is degraded along the way, it will not perform to the very best of its ability. One of, if not the weakest link in the audio/visual chain is the fuse. Without doubt, it will degrade the electricity as it passes through.
The AMR Gold Fuse is a reference replacement fuse for all electronic products. Audio and visual products from amplifiers to LCD televisions will attain a higher level of performance as the power supply chain is no longer "degraded" by running the electricity through a compromised, mass produced fuse.
The generic fuse is an industrial-grade item produced for one job only: to act as a safety cut-out by melting once the electrical current passing through exceeds stated parameters. Its remit has no consideration for the needs of an audio/visual component/system.
Industrial-grade fuses are typically made from:
• Low-grade tin/metal spiral wire: microphonics, added inductance and power degradation issues
• Thin glass tube body: microphonic issues
• Low-grade metal end caps: poor contact, power degradation issues
The AMR Gold Fuse was developed after lengthy testing and auditioning and is a true reference-class mains fuse.
To an audio system (CD Processors, Amplifiers, Turntables etc…), the AMR Gold Fuse has been found to bring the following improvements:
• Fuller body, better definition and detail
• Reduced distortion
• Extended dynamic range
For visual equipment (plasma, LCD televisions, projectors, BD and DVD players etc…), the AMR Gold Fuse has been found to raise the level of performance with:
• Sharper picture definition
• Richer colours and blacker blacks
• Much reduced picture "noise"
With AMR's awareness and understanding of the limiting factor of the generic fuse, AMR has designed and developed the AMR Gold Fuse which addresses each of the above issues to result in a whole that is truly greater than the sum of the parts.
Most audio equipment due to the surge on power up require slow-blow. However, for certain products such as speakers, then the fast-blow type is better-suited. The AMR 2.5A and 4A fast-blow fuses were developed specifically for this application. In particular, they ideally-suit the Magneplanar range of speakers.

The AMR fuses are sold in packs of 3 or in packs of 1
Fuse values available are as follows:
6.4mm  dia x 25mm length, UK mains plug fuse
Ratings include: 3A, 13A, 250V
5mm dia. x 20mm length, Used in UK, Europe, generally internal fuses, slow blow
Ratings include: 0.125A, 0.25A, 0.5A, 1A, 1.6A, 2A, 3.15A, 5A, 6.3A, 8A, 10A and 15A, 250V
6.3mm dia. x 32mm length, Used in US, slow blow
Ratings include: 0.5A, 1A, 1.6A, 2A, 3.15A, 5A, 6.3A, 8A, 10A, 15A and 20A, 500V
NEW IN - 6.3mm dia. x 32mm length, Used in Magneplanar Speakers, fast blow
Ratings include: 2.5A and 4A
Also note that the 15A 5mm x 20mm fuses have the older black font, to confirm there is no difference in design between the black font style and the blue font style.
Price (1 pack of 3) - £48.00 + VAT + P&P
Price (1 pack of 1) - £16.00 + VAT + P&P
Subscribe to Hifi Collective