Jupiter Tinned Multistrand Copper in Lacquered Cotton wire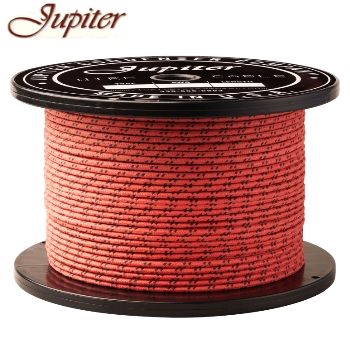 Jupiter, USA has introduced a new tinned multistrand copper in cotton insulated wire, to rival Duelund's offerings.
This AWG16 and AWG12 wire is currently available in either black or red. As well as, a dual strand option for both gauges.
The dual strand contains two twisted strands, each strand coated in lacquered cotton, black for one and red for the other. See the picture below.
An idea wire for signal cables, interconnects and low power rating speaker wire.
Sold in multiples of 1 metre and supplied in a continuous length.
Below are the types available with prices:
Jupiter AWG16 multistrand: 1.42mm inner diameter, overall diameter 2.45mm, tinned multistrand copper, cotton insulated wire, available in black & red
£7.50 +vat +p&p
Jupiter AWG12 multistrand: 1.94mm inner diameter, overall diameter 2.86mm, tinned multistrand copper, cotton insulated wire, available in black & red
£11.75 +vat +p&p
---
Jupiter DUAL AWG16 multistrand: each strand: 1.42mm inner diameter, diameter 2.45mm, tinned multistrand copper, cotton insulated wire sheathed in red/black. Overall wire diameter: 4.2mm at thickest point
£13.90 +vat +p&p
Jupiter DUAL AWG12 multistrand: each strand: 1.94mm inner diameter, diameter 2.86mm, tinned multistrand copper, cotton insulated wire sheathed in red/black. Overall wire diameter: 5.6mm at thickest point
£20.50 +vat +p&p
Subscribe to Hifi Collective