Mundorf MConnect CAW Copper Angelique Wire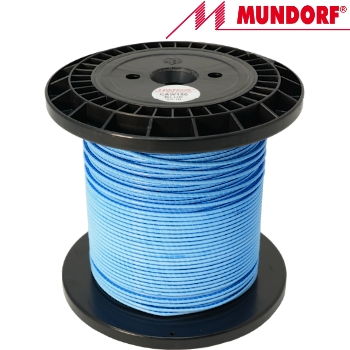 With this patent-pending Copper Angelique Wire, an absolutely convincing star ensemble enters the stage of our wire alloys made from Copper, Silver and Gold: A true Master Class triad!
Indeed, Mundorf is a bit proud that in countless elaborate listening sessions with different alloy ratios, eventually succeeded in uniting the outstanding musical talents of Silver (structure, analytics, transparency) and Gold (multi-faceted tonality and brilliance) with the energy and liveliness of Copper in this one perfect alloy.
Available with black and/or blue PTFE insulation and of course plain.
The following, individually isolated and twisted versions (CAW 2x BK/BU) are particularly appropriate:
2 x 0,5mm for super tweeters and tweeters
2 x 1.0mm for tweeters and mid-drivers
2 x 1.5mm for mid-drivers and mid-woofers
2 x 2.0mm for woofers and sub-woofers
The specifications for all wires are below. Please click BUY NOW to see prices.
Copper Angelique® Wire BARE
 

| Product Code | Conductor Diameter | Cross-section | Specific weight | DC resistance |
| --- | --- | --- | --- | --- |
| | 0.5mm |     0.1963 mm2 | ­1.77 (g/m) | 87 mOhm/m |
| | 1mm |    0.7854 mm2 | 7.07 (g/m) | 22 mOhm/m |
| | 1.5mm |   1.7671 mm2 | 15.90 (g/m) | 9.67 mOhm/m |
| | 2mm |   3.1416 mm2 | 28.27 (g/m) | 5.44 mOhm/m |
Copper Angelique® Wire BLACK or BLUE PTFE insulated
 
Product Code
Conductor Diameter
Cross-section
Specific weight
DC resistance
0.5mm
    0.1963 mm2
2.39 (g/m)
87 mOhm/m
1mm
   0.7854 mm2

8.20 (g/m)

 

22 mOhm/m
1.5mm
  1.7671 mm2

16.70 (g/m)

 

9.67 mOhm/m
2mm
  3.1416 mm2

29.40 (g/m)

 

5.44 mOhm/m
Copper Angelique® Wire BLUE/BLACK PTFE insulated
 

| Product Code | Conductor Diameter | Cross section | Specific weight | DC resistance |
| --- | --- | --- | --- | --- |
| CAW205BK/BU | 2 x 0.5 mm | 2 x 0.1963 mm2 | 4.88 (g/m) | 87 mOhm/m |
| CAW210BK/BU | 2 x 1.0 mm | 2 x 0.7854 mm2 | 16.74 (g/m) | 22 mOhm/m |
| CAW215BK/BU | 2 x 1.5 mm | 2 x 1.7671 mm2 | 34 (g/m) | 9.67 mOhm/m |
| CAW220BK/BU | 2 x 2.0 mm | 2 x 3.1416 mm2 | 60 (g/m) | 5.44 mOhm/m |
­
Subscribe to Hifi Collective