Arizona Capacitors Red Cactus - Paper/Oil/Aluminum Foil Capacitor, C85805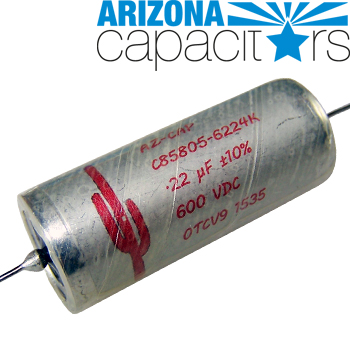 Arizona Capacitors, based in the US, manufacture highly regarded audio signal capacitors as part of a huge range of both Audio and Industrial capacitors. They have recently re-organised how their audio capacitors are distributed.
We have invested in 3 of their Cactus aluminium foil range of capacitors, all of them are similarly priced but vary in their composition slightly. Here we have the Red Cactus, the more "old school" version made up of a kraft paper dielectric and aluminium foil electrode, impregnated with high purity mineral oils. The case is hermetically sealed into an insulated electro-tin plated brass tube with glass to metal compression end seals with soft solder to the ends to ensure a complete hermetic seal. The leadouts are tinned OFC copper. These capacitors offer outstanding performance and long life.
SPECIFICATION
Capacitance range: 0.1uF to 0.47uF
Tolerance: +/- 10%
Maximum voltage: 600Vdc
Dissipation factor: Less than 1.0% when measured at 120 Hz using a GR 1658 or equivalent.
Insulation resistance: The product of insulation resistance in megohms and the capacitance in microfarads shall be 6000 megohm-microfarads minimum. However, I.R. need not exceed 18000 megohms.
Operation temperature range: -55 to 85°C at full rated voltage
Subscribe to Hifi Collective