Powertron FPR2-T218 30W Metal Foil Resistor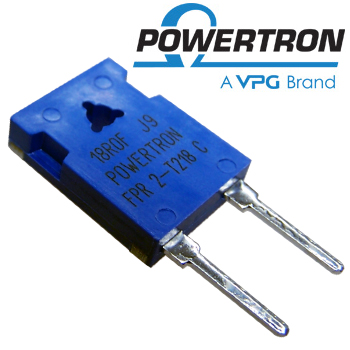 New to Hificollective are these amazing bulk foil resistors in a TO-218 (TO-247) housing from Powertron. Rated at 3W in free air but with a maximum of 30W rating when fitted to a heatsink. These gems are ideal for use in crossover networks with a truly neutral sonic characteristic. Used throughout the industry they are available from 0.002R to 20R, we carry 0R47 to 18R to cover the popular values used in crossovers. They offer an incredibly stable resistance up to around 65 degrees so will provide a constant performance no matter how loud you play your music.
For those of you that require a higher power rating for the FPR2-T218 we now stock the Ohmite E2A-T247-38E heat sink that takes its performance up to 5.4 watts, this is plenty for most domestic hi-fi speakers and also keeps overall size to useable dimensions.
Characteristics:
Power rating: 3W (free air) to 30W (with heatshrink)
Tolerance: 1%
Operating Temperature Range: -40 to 130 Degrees C
Resistor material: CuNiMn-Foil
Substrate: Anodised aluminium
Leadouts: Tinned copper
size (without heat sink)
resistor body - 15.5mm (w) x 21mm (l) x 4.6mm (d)
resistor leadouts - 1.4mm (w) x 15mm (l) x 0.8mm (d)
size (overall with heat sink)
16mm (w) x 45mm (l) x 24mm (d)
PRICE
FPR-2T resistor - £11.60 + vat
Ohmite E2A-T247-38E Heatsink - £1.87 + vat
Fisher Electronic SK-129-38-1-STS heatsink - £4.40 + vat
"At first I thought I made a mistake with putting a higher value, 5.6 ohms instead of 5 ohms, in my crossover. The top end was extremely recessed compared to the previously fitted Riedon UB12 R5 resistor. The mids had been nice and expressive.
But wow, after only 5-10 hours these resistors opened up. Very natural, clear, and pleasing results. The best resistors I've used so far.
At the beginning, I thought these have a similar sound signature to the Caddock thin film MP 930 I had used in the past, but after some burn-in they are more transparent.
Thanks for the recommendation. Great service." - Mr W M
Subscribe to Hifi Collective