Unicon Audio Grade Electrolytic Capacitors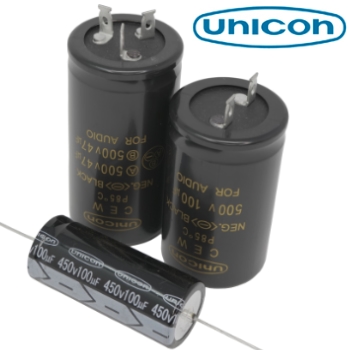 Unicon produces a large range of electrolytic capacitors. We carry stocks of their FUT series, reasonable cost axial electrolytic capacitors rated at 250Vdc and 450Vdc, great for hardwired power supplies. We also have their extraordinary LYN and LXN large can radial electrolytic capacitors with solder lug terminals. These are low ESR & high ripple current audio grade capacitors specifically designed for vacuum tube amplifiers. The LXN are single capacitors in a can type and the LYN are dual capacitors in a can that share a common negative terminal.
For mounting please see our range of CAPACITOR CLIPS.
FUT Series (axial leaded type) - 2.2uF to 100uF, 250Vdc and 450Vdc
LXN Series (single capacitor, solder lug type) - 10uF to 220uF, 500Vdc
LYN Series (dual capacitor, solder lug type) - 10uF + 10uF to 100uF + 100uF, 500Vdc
Specifications
Tolerance: +/- 20%
temperature range: -40 to 85 degrees C
Subscribe to Hifi Collective