Pathaudio Resistors 10 Watt 1% Resistors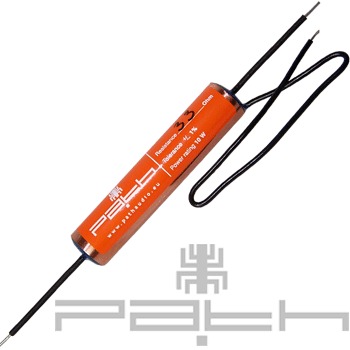 PathAudio Resistors - developed and designed for use in high-quality Hi-End Audio. Their design ensures excellent transmission of the entire audio bandwidth without audible distortions and an incredibly low noise floor. They have a wide frequency response with negligibly low impedance phase shift, providing superior quality audio processing. At 1%, they have a very tight tolerance, a low-temperature coefficient, and high heat dissipation. This makes the PathAudio resistor one of the best medium power-rated components for audio applications. Ideally suited to loudspeaker cross-overs.

Resistors are made in thick film technology. The resistive layer is applied to the ceramic moulded body. Then it's dried at high temperature and encapsulated with silicon cement. After applying 0.8mm tinned copper wire, the resistor is almost ready to play. Still, for ultimate mechanical stability and shielding advantages, it's potted into the copper tube and flooded with the highest quality resin, protecting the resistive element against vibration and the external environment. The use of copper tubing allows for draining interferences, which is why we used the third long lead-out. It's connected only to the casing, having no contact with the signal transmitted through the resistor. The third leadout should be joined to the ground or "-" speaker input. They are non-magnetic and have incredibly low inductance.

PathAudio resistors are perfect for loudspeaker cross-overs allowing the sound to be smooth and precise, with superb dynamics.
Specifications:
Values available 0R22 to 100R

10 Watt power rating Tolerance +/- 1%
Maximum voltage 1500V
Non-magnetic
Ultra-low inductance
Body Dimensions (length x diameter) 60mm x 12mm
Signal lead out diameter 0.75mm, solid core, length 35mm
Ground lead out diameter, 0.55mm multistrand, length 200mm.
If you are looking for a specific value, we have added a RESISTOR FILTER to speed your search up.
PRICE (1 off)
0R22 - 0R47: £27.05 +vat +p&p
0R5 - 100R: £25.00 +vat +p&p
Subscribe to Hifi Collective