Glasshouse Remote Control kit for Alps & TKD motorised pot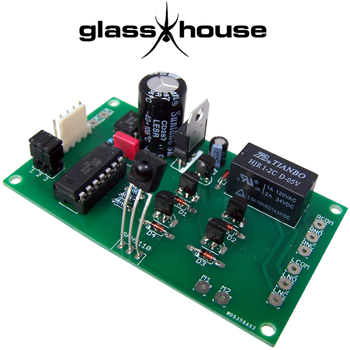 We have now launched the Glasshouse Selector Remote Control Kit to be used in conjunction with the Glasshouse Remote Control kit for the Alps and TKD Motorised Potentiometers, both designed by Nick Gorham. For more details on the remote control kit, please visit this PAGE.
The Glasshouse control board measures 80mm x 47mm x 25mm(h). It can be powered by a 6.3V (standard heater supply) to a 15V AC supply or a DC supply ranging from 6.3V to 15V DC. The maximum current draw is 200mA.
Supplied fully built and tested, the sensor can easily be removed for positioning elsewhere. Flying leads are needed. Make sure you fit the same way around. Available with or without programmed, ready to use, handset and Alps or TKD motorised potentiometer. Standoffs are optional, too - 15mm, 20mm & 25mm.
The remote control measures 170mm x 45mm x 18mm and takes 2 x AAA batteries, which are not supplied.
We do provide the remote programmed and ready for use. However, this is the sequence to programme it if you need to do the process again.
Press the red O button (on/off) & Mute (picture of a speaker with a cross through it) and at the same time
The LED stays on
Then press 0513
The LED will blink 3 times, and will now be ready for use.
PRICE (1 off)
Control Board: £42.00 +vat +p&p
Handset: £10.00 +vat +p&p. Click HERE for more information on the remote
Alps Motorised pot, 20K or 50K: £32.00 +vat +p&p
TKD 2CP-2511 MC Motorised pot, 10K, 20K, 50K or 100K: £93.70 +vat +p&p
TKD 4CP-2511 MC Motorised pot, 10K, 20K, 50K or 100K: £180.00 +vat +p&p
Subscribe to Hifi Collective