We have extension kits, rod coupliers and stainless steel rods all so you can control your switch at the front panel while it is located at the back near the input signals.
See PRICES for Switch Accessories.
Adjust how many steps your Elma 01-1264 switch makes. So you can now make your 2 pole 6 way switch a 2 pole, 2 way or 3 way or 4 way or 5 way.
Cardas cleans and improves all electrical contact surfaces by the application of a trace amount which is burnished into the surface with a soft clo...
Elma stop pin used to change the number of physical steps of the Elma switch type 04. So you can change a 2 pole 6 way switch to a 2 pole 2, 3, 4 o...
An excellent solution for fitting a selector switch or potentiometer close to the connectors or signal input circuitry.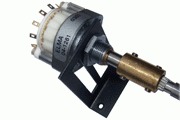 Internal dia 6.35mm (1/4 inch) drilled all the way through. 4 M3 screw holes for grub screws (provided) to clamp both the shaft and rod in place. C...
Stainless steel rod, non ferous, non magnetic, high strength. 300mm length x 6mm diameter. Can be used with the coupliers for attachment to the sha...