Duelund Standard Graphite Silver Resistors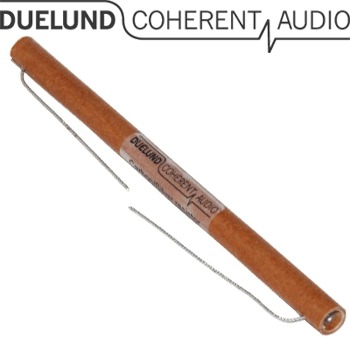 Duelund Coherent Audio are widely acknowledged for designing and manufacturing the world's finest capacitors, inductors, resistors and cables. hificollective are proud to represent them in the UK. Their resistors are specifically designed for loudspeaker crossover use. Constructed from a graphite rod with silver terminals in a phenolic cylinder for protection. They have practically zero inductance, with a 5% tolerance. The special charcteristic about this resistor is that it displays a negative temperature coefficient. For example, when the voice coil of a speaker heats up, it's impedance rises. The DUELUND Graphite Resistor counteracts this by means of a decreasing impedance. The results are greatly improved dynamics from the driver.
Dimensions:
Diameter = 8mm, length = 65mm to 135mm.
Power Ratings:
These come in 5W or 10W depending on resistance.
THE DUELUND STANDARD RESISTOR RANGE HAS BEEN DISCONTINUED BUT WE STILL HAVE A LARGE AMOUNT OF STOCK AVAILABLE
PRICE: £14.50 +vat +p&p
Subscribe to Hifi Collective