Here we have accessories from the likes of Rothwell Audio Products (in-line attenuators) HRT (USB DACs), Glasshouse`s wooden feet to name a few.
Here we have Hi-Fi accessories from the world renown Cardas. Based in the US, these guys know how to make great audio gear.
We are know for stocking all the Neotech off reel wires and connectors but we are very happy announce that we will be carrying some of their finish...
Here we have a wealth of accessories from world reknowned Audio Note.
Glasshouse, Hi-Fi Collective`s own brand, produce three sizes of wooden cone feet for all your Hi-Fi separate support needs.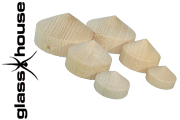 The Glasshead is the perfect way to store your valuble headphones, keeping them safe and to hand.
Fonè Recordings are an Italian based recording company that specialise in high quality 'live' audiophile hybrid multichannel and stereo SACD (Super...
With the many USB feed products on the market, we decided to support one of the best, HRT. We have their DACs and headphone amps.
Rothwell began trading in 1989 and have a wealth of Audio Product. We stock their brilliant in-line attenuators.
New from Sound will, Korea, are these amazing patented magnetic levitation device. A perfect solution to isolate audio separates, be it an amplifie...