TKD 2CP-2511/4CP-2511 MC Motorised volume control Potentiometer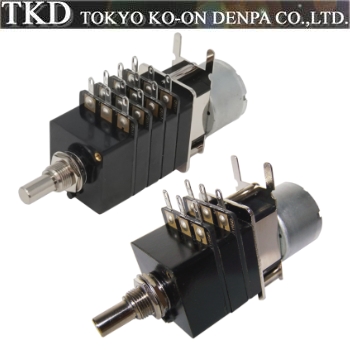 The TKD (Ko-on) potentiometers are one of the best potentiometers in current production today. They are popular with numerous manufacturers such as Audio Note, LAMM and Kondo. TKD has an excellent feel and provides a clean dynamic sound. Their conductive tracks are made from laser-trimmed conductive plastic tapers, offering excellent channel balance. They are almost as good for this as stepped attenuators built with high tolerance resistors. These potentiometers are stereo logarithmic potentiometers. The price of the motorised version is just a touch above that of the manual versions.
We now also stock the 4 channel version of the 2511 MC volume control.
Motorized Version Specification
Voltage:  DC 4~6V (DC 4.5V standard)
Rotation Speed: 12 ± 3 sec./full rotation (at DC 4.5V)
Max. operating current: 100mA Max. (at rotation), 150mA Max. (at end slip)
Insulation resistance: 1Mohm Min. at DC 100V
Can be used with the Glasshouse remote control module click HERE for more details.
Fully encapsulated.
25 x 43 x 65mm (depth without bush/shaft), bush height 9mm, shaft length 16mm.
Chassis hole size dia. 9mm, shaft dia. 6mm.
Available values in stock: 10K, 20K, 50K and 100K in both 2 and 4 channel.
PRICE (1 off) 10K, 20K, 50K, & 100K
2CP-2511MC - £93.70 +vat+p&p
4CP-2511MC - £180.00 +vat+p&p
Subscribe to Hifi Collective