Charcroft Z-Foil and S-Foil Resistors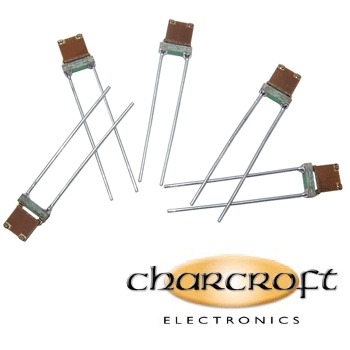 Aka Vishay VAR-Series "naked" Z201 Z-foil or Texas Components TX2575
We all know the fantastic Vishay range of bulk foils, but we now have something much better - the CAR resistor. Composed of Vishay's Bulk Metal™ Z-foil technology, with improved sound quality, it provides a combination of low noise and low inductance/capacitance, making it unrivalled for applications requiring low noise and distortion-free properties. This unique "naked Z-foil resistor" design, without a case or encapsulation, adds dimension for reducing signal distortion and increasing clarity in signal processing.
These resistors are handmade in the UK. You may feel they carry a high price tag, but discerning DIYers do not think twice about spending similar amounts on capacitors. Well, resistors are just as important. Hi-fi Collective is proud to be the first to bring you the fantastic Charcroft Audio Resistor.

NEW!!! - we now have stock of the CARS from Charcroft. These are available in values over 100K, built on the same size chip as the CAR resistors. The CARS are S-foils as opposed to Z-foils. The S-foils use two different alloy types, C and K. The TCR of C foil decreased with temperature, whilst the K foil increased with temperature. Over the full temperature range of -55 to +125 C, the S-foils vary by +-2.0ppm/C. The latest generation Z-foils have a TCR variation over -55 to +125C of only +-0.2ppm/C, so is a factor of 10 times more stable. Also, note the power rating of the CARS, and S-foils are 0.25W, and the tolerance is 0.1% - available in 120K, 150K, 180K, and 220K.

Specification:
Temperature coefficient of resistance (TCR) - 55°C to + 125°C, 25°C ref.:± 0.2 ppm/°C typical
Rated power: to 0.4 W at + 70°C
Tolerance: to ± 0.1 %
Resistance range: 10ohm to 100K
Non-inductive, non-capacitive design
Non-hot spot design
Current noise: < - 40 dB
Rise time: 1 ns without ringing
Electrostatic discharge (ESD) above 25 000 V
If you are looking for a specific value, we have added a RESISTOR FILTER to speed your search up.
PRICES 1 off
2R to 4R7 - £30.35 +vat+p&p
5R1 to 9R1 - £21.37 +vat+p&p
10R to 100R - £16.75 +vat+p&p
11RR to 9K1 - £13.87 +vat+p&p
10K to 47K - £15.88 +vat+p&p
50K to 100K - £27.41 +vat+p&p
Subscribe to Hifi Collective