Arcol Carbon Composite Resistors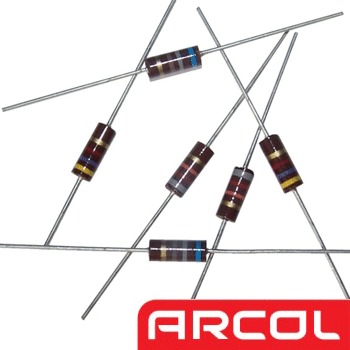 A fabulous alternative to Allen Bradley carbon composite is these amazing 0.5W current manufacture resistors from Japan. 
With the continued success of the carbon composite Allen Bradley resistors but the unfortunate scarcity of this NOS line, we had to find a good alternative. And did we find one? Yes, many carbon composite fans have re-affirmed to us that the Japanese made Arcol carbon composite are amazing. Carbon composites have been a favourite of many, known for their richness and musicality. They are used heavily in guitar amps too.
This little beauty can be used in any application and at £0.35 each they aren`t going to break the bank. 

Specification:
Rated dissipation: 70°C 0.5W
Tolerance on rated resistance: ±5%
Resistance range: 2R2 to 4M7
Isolation voltage: 500V
Temperature range: –55°C to +125°C
Dimensions (mm) Body 9.5 x 3.6, Leads 28 x 0.7
Low inductance and capacitance
Very high pulse capability with good stability and high reliability
Non-magnetic
If you are looking for a specific value, we have added a RESISTOR FILTER to speed your search up.
PRICE 1 off
0.5W - £0.70 +vat +p&p
Arcols are no longer made, however, we still do hold a large amount of stock.
Subscribe to Hifi Collective