Fostex has a huge legacy in audio technology; founded by Foster Electric who have been developing high quality speaker components since 1949. They now produce a range of superb quality drive units from super tweeters and full range speakers through to 15" woofers...
Fostex produce a range high quality tweeters designed to go into and on top of cabinets with sensitivity all the way up to 108dB.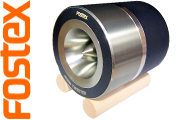 Fostex woofers are available up to 400mm and are very popular with DIY-ers due to the availability of cabinet kits.
Fostex Full Range units have very light cones and powerful magnets for superb control. They offer great clarity and detail.