Amtrans AMRT Carbon Film Resistors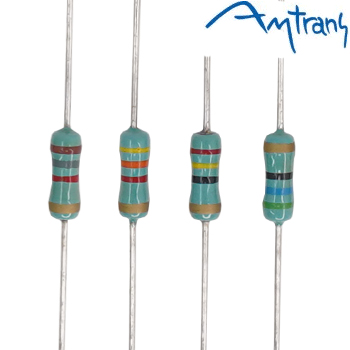 Amtrans, Japan has developed the AMRT series of carbon film resistors to specifically cater to the audio market. Many manufacturers use them in their equipment. So time enough for HFC to offer them to the DIY community. They offer a clean, vivid, and dynamic sound.
We are stocking the full E24 range from 10R to 1.5M. AMRTs are also available in 0.25W and 0.5W but due to the compact size and the superior performance of the 2Ws over the lower power rating we have decided to only stock the 2Ws at this moment in time. They have a 5% tolerance, non-magnetic, their structure effectively suppresses vibration thus reducing distortion and colouration. They are highly moisture resistant.  A lot to boast we believe and at an incredible price.
Characteristics:
power rating: 2 Watt
Nominal resistance:  10R to 1.5M
Tolerance: +/- 5%
Max working voltage:  250V (2W)
Operating temperature: -55 to +155 degrees C
Resistor film: High-quality carbon film
RoHS compliant
Ceramic base: Porcelain rod (alumina)
Resistor film: High-quality carbon film
End caps: Tin plated brass
Lead wire: Tin plated oxygen-free copper wire
Coating: Epoxy resist, colour blue
Dimensions:
body: 4.8mm (diameter) x 11.8mm (length)
lead-outs: 0.8mm (diameter) x 35mm (length)
PRICE 1 off
2W - £0.70 vat+p&p
Subscribe to Hifi Collective