Shinkoh Tantalum Resistors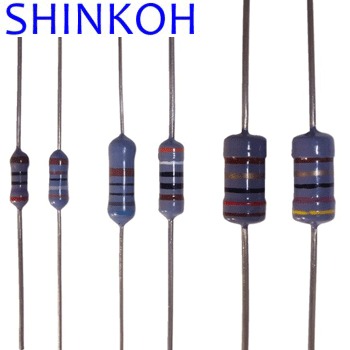 Hi-Fi Collective now have stock of the exceptional Shinkoh Tantalum resistors. Originating from Japan, they ceased production over 8 years ago.
Commonly regarded as the best resistors in the World, they featured heavily in seriously high-end hi-fi, such as Audio Note Japan's famed Ongaku 211 amp.
They offer amazing transparency, highly musical and detailed, other resistors don't even come close. They are non-magnetic, with tinned copper axial leads.
We have an excellent range of 0.5W, 1W and the recently added 2W. If you want the best in your system your search has ended. These are what the Audio Note tantalums are based on.
We have available values in all 3 wattages.
If you are looking for a specific value, we have added a RESISTOR FILTER to speed your search up.
PRICE 1 off
0.5W - £6.74 +vat +p&p
1W - £12.85 +vat +p&p
2W 10R-9K1 - £19.14 +vat +p&p
2W 160K-1M - £26.80 +vat +p&p
Subscribe to Hifi Collective