Fostex Loudspeaker L-Pads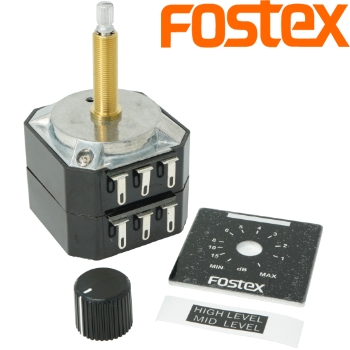 We stock two models of the Fostex L-pad range, a 100W version and a 200W version. The purpose of the L-pad is to adjust the relative volume of drivers connected to them by adding resistance in series and parallel, thus maintaining a constant 8-ohm load impedance.
The fundamental internal structure of an L-pad consists of a combined network of two variable power resistors. One resistor is connected in series with the speaker, while the other is in parallel. This configuration ensures a consistent impedance regardless of the resistor settings. Consequently, it enables precise tuning and balancing of multi-unit systems. Importantly, as the impedance remains constant, the crossover remains unaffected.
Fostex R80GB 8 ohm 100W
Impedance: 8 ohm
Attenuation: 0 to 40dB or more
Input (w/network): 100W (music)
Dimensions: 50(W) x 50(H) x 71(D)mm
Threaded shaft length: 30mm
PRICE (1 off)
£39.86 +vat +p&p
Fostex R82GB 8 ohm 200W
Impedance: 8 ohm
Attenuation: 0 to 40dB or more
Input (w/network): 200W (music)
Dimensions: 50(W) x 50(H) x 89(D)mm
Threaded shaft length: 30mm
PRICE (1 off)
£69.45 +vat +p&p
Subscribe to Hifi Collective