Jupiter Vitamin-Q Paper-in-Oil Capacitors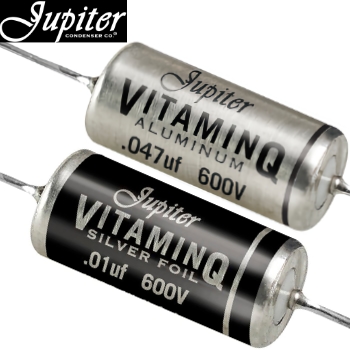 Two new ranges from Jupiter Condenser, the Silver Foil - Vitamin-Q Paper-in-Oil & Aluminium Foil - Vitamin-Q Paper-in-Oil Capacitors.
These capacitors utilize the same polymerized impregnation fluid developed by Sprague in the 1940s. Hermetically Sealed and processed under a deep vacuum for several days, keeping oil from leaking out and provides protection from ingress of moisture to ensure long life.
Glass to metal end seals are soldered into tin-plated brass tubes to form leak-tight joints. Jupiter Vitamin-Q capacitors are built to Mil-Spec standards yet developed and refined for beautiful sound.
The Silver foil version recreates a great sense of space, recording height, width and depth are very much more apparent with a great sense of ease to the powerful flow.
Read more about the Silver Foil HERE
Read more about the Aluminium Foil HERE
To Buy either click HERE
Subscribe to Hifi Collective