Glasshouse Passive Pre-amplifier Kit No. 1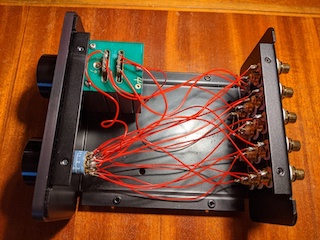 In this blog we see one of our Glasshouse passive pre-amplifiers being combined with a 48 step 10K Khozmo Stereo Series Stepped Attenuator. 
In the words of I.L: 
"A fun and easy build, the only difficulty was getting the tip of the iron into some of the smaller spaces (it gets a bit full with all the wires in place). The output pins on the Elma switch don't have tags either, which caused some cursing. The Khozmo attenuator is a lovely thing, and the finished preamp sounds great and looks really smart. I'd recommend this even to someone who hasn't done much soldering, it's really not difficult."
Due to the massive variety of stepped attenuators we have created over the years and that are on the market, featuring different type of switches, resistors and load resistors we have decided to sell the pre-amp kit without the stepped attenuator. The Glasshouse chassis is made of 2mm thick aluminium black powder coated, with a black anodised front panel and knobs. The front panel is a 6mm thick aluminium plate, with clear screen print markings. Ths chassis is non-ferrous with shielding properties so limited interaction with nearby separates. The finished product weighs in at 1kg so will stand firm during switching.
One of our more popular attenuators, the Khozmo Stereo Series Stepped Attenuator maintains a constaint impedance throughout the sweep and sounds great in every position.
To check out more details on the Glasshouse Passive Pre-amplifer please click here!
And to see the product page for Khozmo Stereo Series Stepped Attenuator, 48 step, 10K here!
Many thanks to I.L for sharing this project with us, if you have a project you would like to share then please get in touch at info@hificollective.co.uk.
Subscribe to Hifi Collective