The Bristol Show is probably the largest of its kind in the UK. Located at the Marriot City Centre Hotel occupying 7 floors. Celebrating its 33rd year. Mark and I drove down on Friday to see what goodies were on offer.
After an easy 2hrs 30mins drive we parked up at the Caboot Circus Car Park as we would normally. The car park is just over the road from the Marriot and close to Wogan Coffee Roasters where we like to partake in a morning coffee.
Great to see that the guys at Wogan Coffee are doing well, and have expanded their enterprise. James Wogan, the grandson to the original owner, gave us a guided tour of their soon to be completed cafe/barista training facility. As HFC (Hi-Fi Collective) are all complete coffee addicts we will be booking into the course the Thursday before the show for next year.
Anyway back to the show. We decided to start at the top and work our way down. Starting on the 4th floor.
Audio Note has launched their all-new Cobra stereo integrated amplifier. Featuring 3 analogue inputs and 3 digital inputs utilising their onboard DAC. An EL34 push-pull configuration giving out 28 watts. The EL34 is one of my favourite valves I love it for its sheer musicality and grunt. The Cobra did not disappoint, I was very impressed.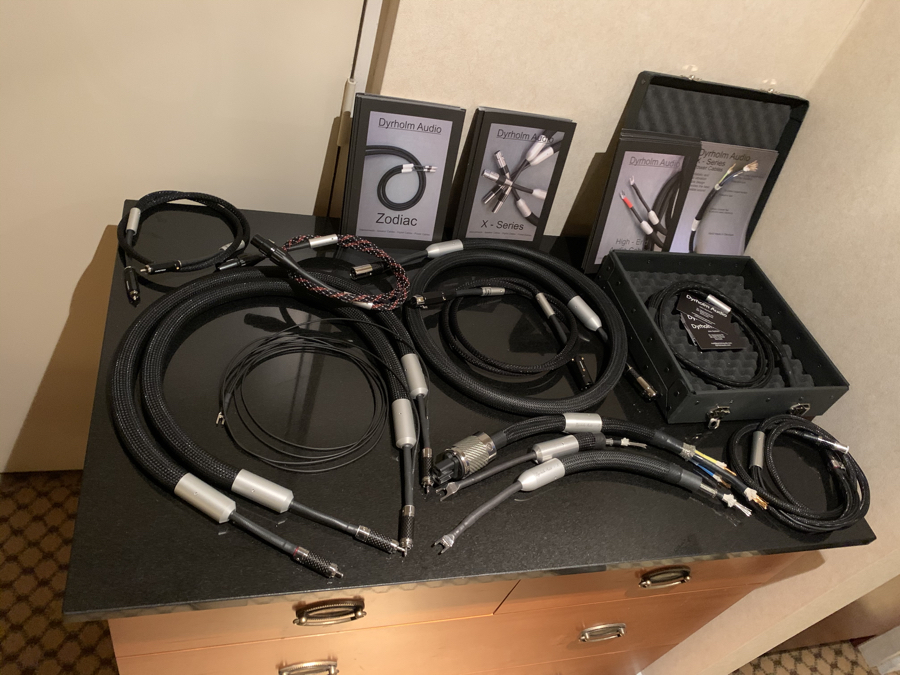 Danish cable maker Dyrhom had an interesting array of antistatic and anti-vibration cable designs, featuring Furutech plugs and various composite wires. Great to hear that they buy from HFC regularly. On a side note, we did have a chat with Sound Fowndation who are the UK distributors of Furutech and we will be stocking their amazing collection of connectors in the next few months.
Great to see Lockwood Loudspeaker at the show. I recall back in the 90s I went to their Borehamwood factory with a pair of Tannoy Monitor Golds to get them reconditioned. They had a mobile BBC sound van in their courtyard. Nowadays they are focused on making their speakers using reconditioned Tannoy Golds, Reds and HPDs. Great old school sound.
Here we have the all-new Rogers E20A/II. A revamp of the original Rogers E20A based on the classic 6L6 push-pull design. Great to see one of the old names in British Hi-Fi still going strong.
Jerry from Falcon Acoustics had an interesting 4 stack of their LS3/5A sounding his room. Also, they were showboating their new 2 ways stand mounter speaker kit, the SAC65 (inside speakers).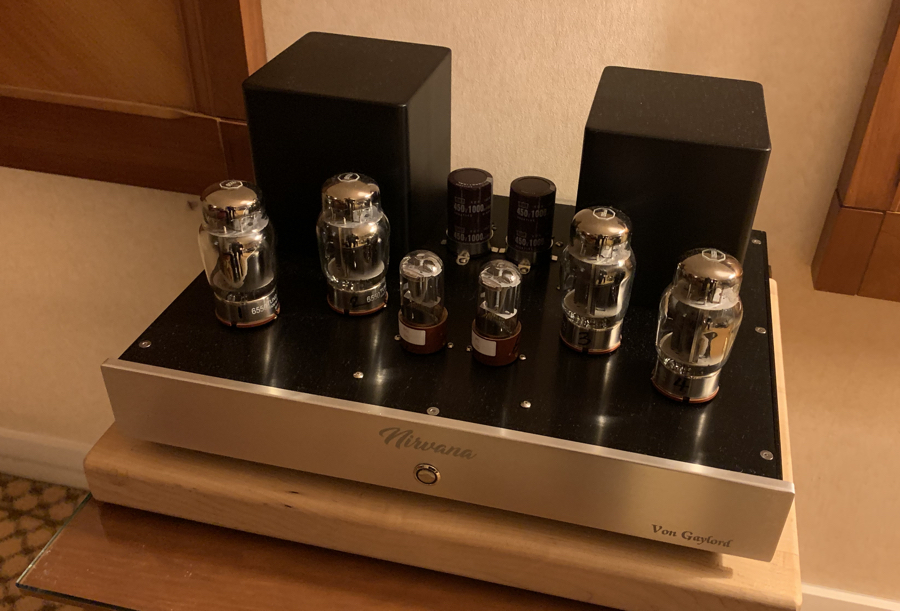 Von Gaylord Audio, formerly known as Legend Audio, is a US-based company that had an interesting display of classicly designed valve amplifiers. They also produce pre-amplifiers, speakers and cables. sadly they only had their entry-level range as I would have been interested to see their £100000 liquid-cooled amplifier.
Award-winning Origin Live's room was light and airy, a welcomed change for the darkness of other rooms. Always impressed with Mark Baker's set up, a big crisp detailed sound.
It was a pleasure to meet Jes Kerr who has had a few bits and bobs from us in the past. Creator and designer of Kerr Acoustics. An artisan speaker maker who has recently joined forces with Sound Fowndations to help spread the word of their amazing sound speakers throughout the land.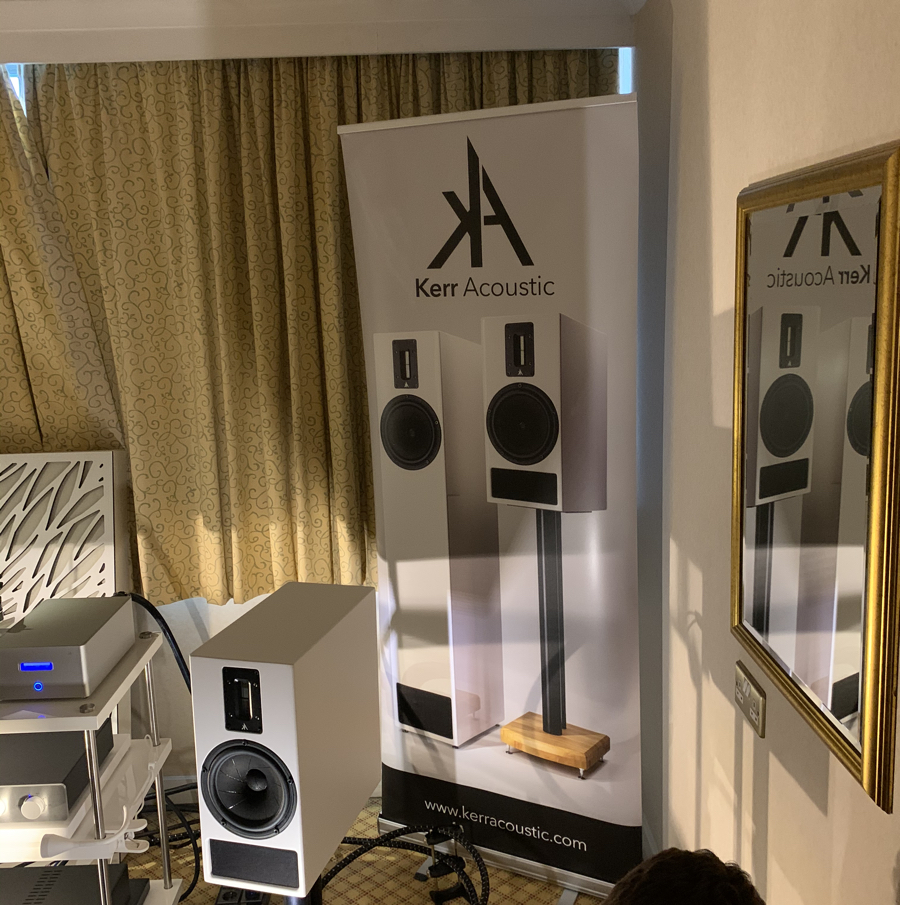 From the Kerr Acoustic range, we have the K300 stand mounter studio monitors. Brilliant dynamics and accuracy. Well done Jess.
British speaker maker Neat Acoustics was showing off their new Ministra stand mounter loudspeakers, featuring Iso-Baric bass loading and true ribbon tweeters.
Sharing the room with Origin Live were these shiny gems. Made of Sheffield steel, these beauties are available in various finishes. Check out the Steel Speaker Company's domestic Harmony Series. Not sure how they sound but they look fabulous.
The picture shows a Kuzmo's Stabi R special version turntable. Recently the Slovenian Hi-Fi Company is now working with the darlings of British Hi-Fi, Kevin and Lynn from Definitive Audio. Always great to see those guys and good to meet the man himself, Franc Kuzma.
Kudos had their majestic Titan 707 loudspeakers on demonstration. Pushing out a rich tapestry of sound.
Fyne Audio had a big presence at the show, occupying 2 suites and 2 rooms. Understandably so as they have a huge range. The picture above shows their all-new F1-5s.
Danish Hi-Fi makers were demonstrating their new Dali Rubicon 2C fully active wireless system. For a lifestyle product, they sounded amazing. On display was an impressive picture of their factory in Denmark, huge is an understatement.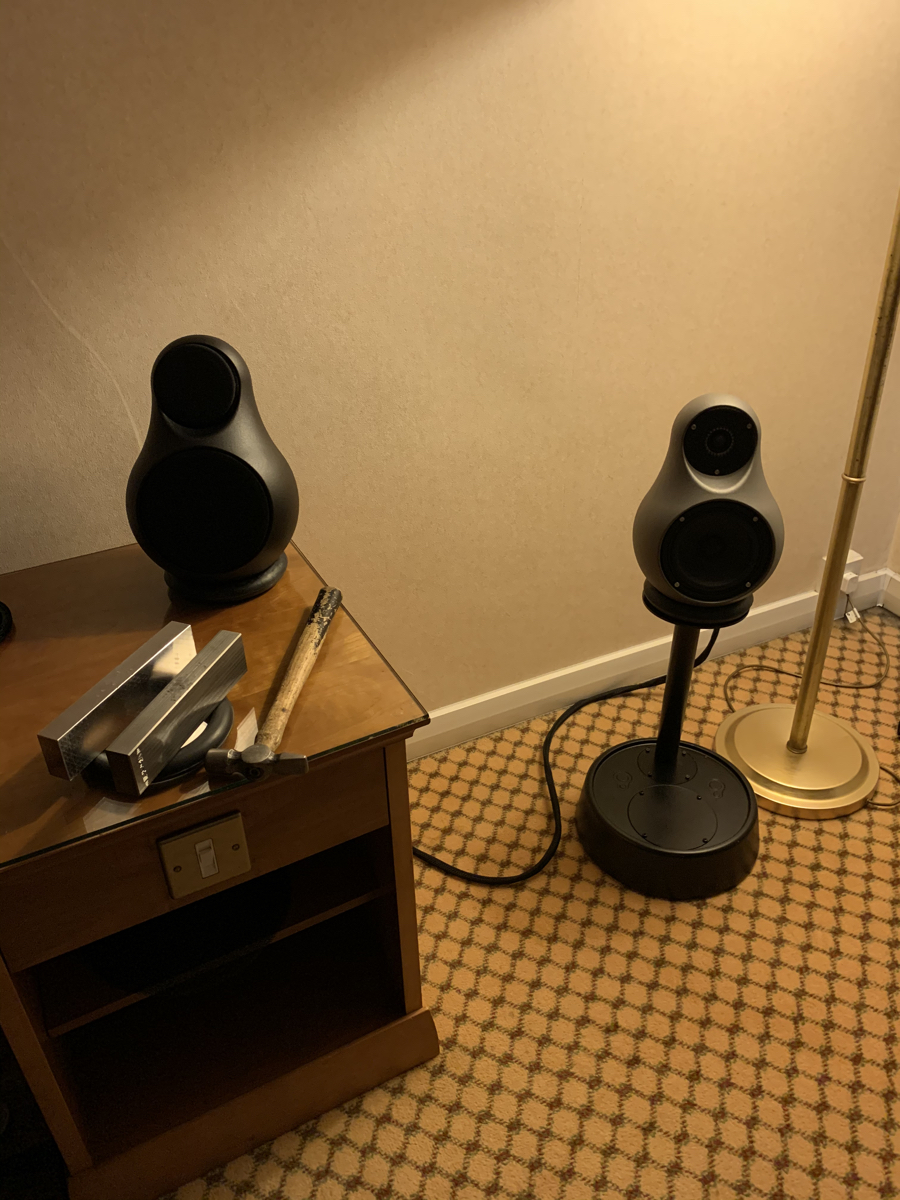 Jern Loudspeakers are fabricated from low resonance cast iron. During the demonstration, we were invited to hit a bar of the material with a hammer and compare the sound with a bar of aluminium. The difference is clear. The cast iron has a dull thud but the aluminium does ring somewhat. The pair on demonstration had a lovely sweet tone.
All the way from Berlin were Voxativ, system makers extraordinaire. We particularly liked their single-driver loudspeakers. Incredibly dynamic and transparent.
Great to see the lids off on the Puritan Audio Laboratories stand. Neatly made mains management systems.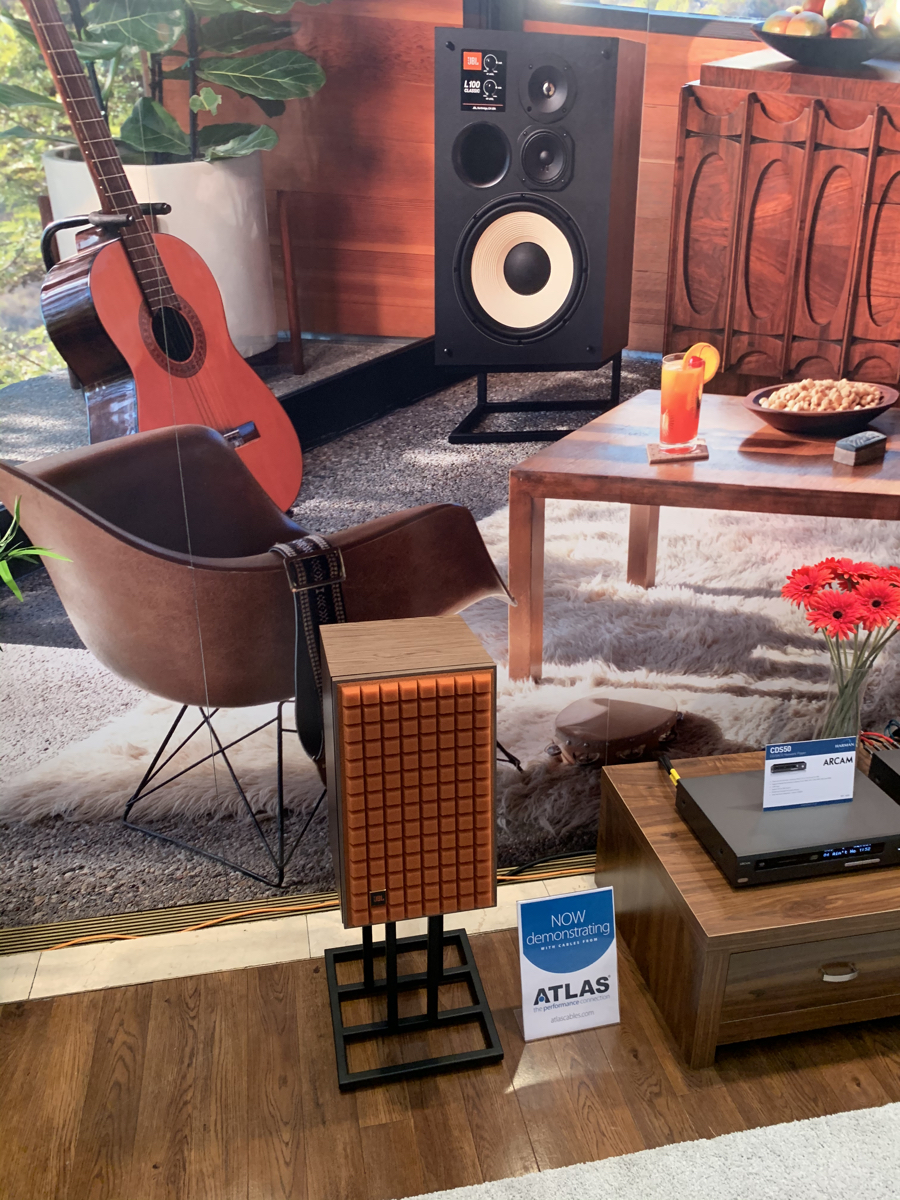 I love the styling of JBL L100s, a classic design and when playing James Blake's Retrograde I had to stroll over and have a chat. Interesting to know that JBL sold a million pairs of these chaps back in the day. Also, they have recently launched a smaller counterpart, the L82s.
After a 5 hour visit to the show, it was great to see some old faces and thoroughly enjoyed a wander.