Here we have another detailed write up from R.T. about the Elekit TU8600 kit. In his own words:
"Before I write a few words regarding my TU8600 build I must first say a massive thank you to Victor Kung @ vkmusic.ca. Victors passion, knowledge and commitment to making my purchase of this kit as straight forward and as pleasant an experience as he possibly could went way beyond anything I would expect from a reseller. Big props then to a truly fantastic guy. I genuinely feel that I have made a new friend even going as far as to make the time to exchange pleasantries with me over the festive period. Thanks Victor.
The Kit
So, after some import issues where my kit believe it or not actually had to be sent back to US customs after it had literally got as far as being just down the road from my location. Seriously I could have driven ten minutes down the road to pick it up but unfortunately it was recalled back to America. 
Anyway, I did receive my kit eventually (4 days later) and frankly what a lovely kit it was. Everything was very neatly packed and triple boxed, to reiterate that's a box in a box in a box.
The whole kit has what I would call a typical Japanese over engineered feel about it. It went together perfectly following the very clear and concise instruction manual included plus all the additional bits needed to make it compatible with UK 230v mains. I did make a mistake by fitting a resistor into one of the two unused resistor locations in the circuit. Once the mistake had been located a simple removal and re-fitting of a new one in the right spot sorted everything out. Props again to Victor for his support and persistence in motivating me here.
There are a lot of parts to this build so a not inconsiderable amount of soldering is required, most of this I believe surrounds the FET controlled power supply biasing. The actual amplification circuit appears quite simple when studying the diagram.
My only possible complaint if only a very minor one is that the B9A valve bases supplied with the kit feel cheap with the possibility of miss aligning the valves pins where the plastic base has a bit of movement/wiggle creating gaps where a pin could miss the metal part of the socket pushing down into the side. That said, you do get some lovely ceramic UX4 bases for the 300B's. The included B9A bases do work perfectly however and are by no means faulty in any way provided you are careful with the pin alignment when inserting the valve. I'd suggest maybe this could easily be improved with the inclusion/fitting of perhaps some Belton bases instead.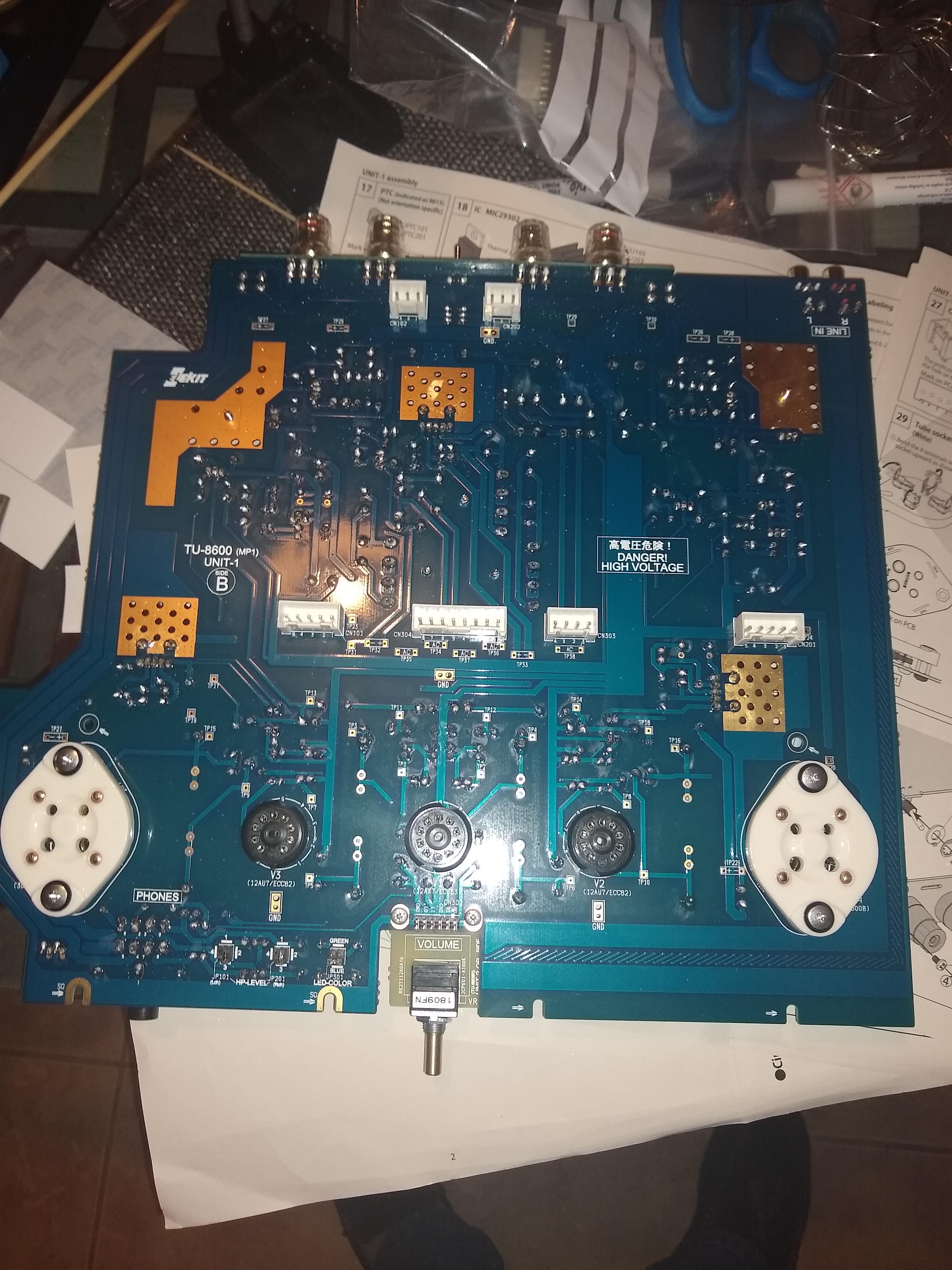 The Sound
Frankly, very impressive. The focus and 3D imaging of the soundstage is spot on giving a real sense that the performers are literally in the room with you. The background is pitch black with no signs of any hiss, hum, buzz etc.
I'm very excited to see if I can get a pair of Victors awesome looking upgraded OPT's in the near future once funds permit it as I'd like to see if I can get a bit more detail into the mix, perhaps to introduce maybe a little more delicacy to the presentation. A bit of tube rolling will be on the cards soon enough as well. I'm currently tempted by perhaps some Gold Lion or PSVane Black Bottle. Maybe the Black Bottles will give me a bit more of that detail I'm after. Victor recommends some of the very, very nice looking and reassuringly expensive Elrog 300B's. Unfortunately these are so far outside of any possible budget I might have for valves I just can't commit, as much as I would love to.
Current valve complement
2x EH Gold Grid 300b
2x NOS Mullard 12AU7/CV4003
1x NOS Phillips JAN 12AX7"
Many thanks to R.T. for another lovley write up, and keep your eyes peeled as we will be stocking these kit before the month is out, and will be releasing a 'How To:" video on YouTube to accompany the launch!
As ever, if you have a project you'd like featured on our blog please get in touch with Nick at: info@hificollective.co.uk