Woodland Grange is one of those locations that's equally convenient for everyone and great when you get there. Rather than being South-East orientated its accessible from London, Reading, Birmingham and further North/West. I bumped into visitors who wouldn't normally be able to make it to a London or Windsor/Ascot Shows but were enjoying the Audio Show at Woodland Grange having made the trip from Wales.
The event was well organised without the spin fuelled by big brands competing at larger shows; most of the 'big names' were absent, giving more airtime to smaller niche providers whose strengths appear to be in designing good products rather than marketing what can often be mediocre products.  As a visitor it was never too crowded, with larger than usual hotel rooms offering up some audio delights, making the event great, uncongested and friendly.  The bar and restaurant were ideal, serving good food, and enjoying sitting out on the lawn in the sunshine wasnt half bad either.
Jeremy Baldwin's seminar on 'Getting the Best From Your System' was well attended and valuable – in particular the demonstration of room acoustics and intermodulation distortion was really beneficial, backed up by a visit to Exec Rm 2 where his demonstration of vibration solving products was definitely worthwhile.  His particular emphasis was on how the reduction of vibration & RF transmitted throughout the system really helps not only with information retrieval but importantly more accurate phasing, which helps increase not only the width of the stereo image but also the size of the listening area over which stereo can be enjoyed. Impressive demonstration and I thanked Jeremy Baldwin (The Right Note, Bristol) for his time and enthusiasm.
One room of particular interest to me personally was Retro R2R by Lodgsound, where I was able to see restored and much better sounding BBC LS5/8s & Quad Amplifiers, all driven by the classic open-reel Studer A80.  These were standard broadcast products which I used as a BBC Studio Manager, but at the time the Active LS5/8 & Quad 405 combination, modified by the BBC, produced a sound that never quite lived up to our expectations, so I was delighted to hear it all sound so good when reworked and set up properly!  This same large room was shared by Meridian, who was displaying not only their latest active loudspeakers (very smart!) but also their heritage products, right back to the Bothroyd Stuart days of the 1970s.  Great to see the British flag flying and the slightly worrying thing was just how appealing the sound of 1978 was. Some of the modern systems demonstrated produce huge amounts of detail, they're fast, transparent and capable of high volume levels and realism, but somehow everyone seemed to like the sound of the old Meridian system. It didn't have any stands or special cables, just kettle-style mains leads and a wobbly table with tiny stylish Bothroyd Stuart pre-amps and '1978' written on it. I remember being just tall enough to see them in a shop window in Salisbury back then! Matthew Delaney of Meridian has been involved with audio since he can remember, building 300B valve amplifiers in his earlier days and now working at Meridian on their top-line products, so it was interesting to hear how the company has progressed.
The Triton room with large horn loudspeakers was well attended, as horns definitely have a following amongst the high-end audio community - although there was a number at the Munich 2019 show there were relatively few at Wood Grange.
The absence of the big names also meant that there were fewer banners and visible advertising – more just Post It Notes and, at a stretch, a leaflet and maybe even a business card.
The Audio Note room, for example, was typical in being both low key and outstanding – you could be in there for ages without any obvious sign that you were listening to an Audio Note system, whereas the large Mackintosh room at Munich virtually had flags flying to attract visitors, but unfortunately the Mackintosh demonstration wasn't good when I was there. Audio Note's system is the opposite in that it usually looks modest but isn't, included their new three-motor record deck, an AN arm and red coloured moving-coil cartridge (and presumably a 300B type amplifier feeding their AN J loudspeakers?). The AN CD player was excellent too, with Mike of Audio Note swapping between the two. The AN demo room is usually good and it didn't disappoint this year.
Absolute Audio in the reception area was displaying a wide range of vinyl products and accessories, demonstrating again how large this sector of the market appears to be. Opposite them was the usual and excellent Music On Vinyl stand – I've got virtually all the records I need apart from new releases, but I did manage to walk away with a Ray Charles LP that I'll look forward to playing later after a quick Lorricraft clean.
The Audio Consultants were very much there in force – I met Steve Harper at Munich 2019 and was interested to hear their excellent system and see their range of products, which included impressive ultrasonic record cleaning machines.
There were very few headphones and almost no multi-channel systems. There was one 'high end' projector room, but otherwise it was virtually all 2 channel stereos, some of which were really very good systems and relatable to visitors, i.e. within financial comprehension and small enough to fit in most houses!
I listened to several discussions about the move to streaming music (i.e. the ditch your CD player, buy a streamer and life will be great argument). The outcome of the discussions seemed overall to be that although the industry is keen to move customers towards streaming CD (or possibly ripping CDs and storing them locally) was preferable for your average audiophile. I couldn't really contribute, as asides from the occasional listen on Tidal, records are usually a better listening experience in my particular case.
The Missing Link room was excellent – I couldn't believe how good the demonstration speakers were at a relatively modest 3k cost, which is modest for their size and performance (most of the other price tags were closer to 10k for something of similar specs.  Having a chat with the designer in the Missing Link room I learned that the Vinyl Passion Dust Buster has sold now about 10,000 units! (I've bought a few, so that will have helped).
Chord – still based near Salisbury – were again there in force and I really enjoyed Martin Cobb's cable demonstration, which included one of their new, unreleased speaker cables.  They generously held a raffle during each demonstration and gave away a whole bundle of Chord Interconnects to the fortunate winners. The difference in their products during the demonstration was pronounced and understandably in keeping with varying budget levels. Particularly impressive was the explanation and demonstration of the difference between digital interconnects, i.e. between digital source and DAC.  There seems to be, quite rightly, a good move to treating the signal path in a system with a combination of RF interference reduction, vibration reduction and the reduction of the conductor to conductor interaction, and I noticed the different approaches taken to help address what sound like essentially the same problem.  Chord was showing cross-sections of their various products which included layers of cable damping and, in some cases, screening (which presumably drains straight to Earth). I was impressed with their presentation and design justification as the room was bound to have contained a few cable sceptics. We all know someone (usually an electronics engineer) who as a self-appointed authority emphasises that as  'a digital signal either gets there as a series of 1's and 0's, or it doesn't, so as long it gets there the type of cable is irrelevant'.  Chord effectively demonstrated the differences in performance between several digital interconnects, nobody voiced disagreement to the marked and clearly audible differences. Chord will have changed over the cables so many times by Sunday evening that the connectors will wear out!
I've included rooms and experiences here that were significant on my visit – there were others too which I may have omitted, but that doesn't mean that they weren't good, just that I couldn't get in to photograph them at the time or there isn't space to include them here.
Enjoying a chat with Mick Seaton (Audio Note) and Chris Harris (Music On Vinyl) in the bar afterward reminded me how small and connected this sector of the industry is - without support from Audio Note and Hi-Fi Collectives my own designs and projects would be nowhere (I strongly suspect that at least some of these manufacturers and suppliers don't realise how good some of their components actually are).  As I write up this article in the bar area I realise what a good day at Woodland Grange it was and thanks to all exhibitors for all their hard work that goes into making it happen.  If you're in the UK and it's within reach for you next year I'd encourage you to visit as it's definitely worth it – very different to Munich 2019, but just as good.
More soon! Thank you. Rinthe UK
Have a look at these pictures:
Retro LS5/8, Quad 405 & open reelsources, all restored
The Tektron Room
Absolute Analogue
Audio Music & Horning Hybrid
Josound & Lampizator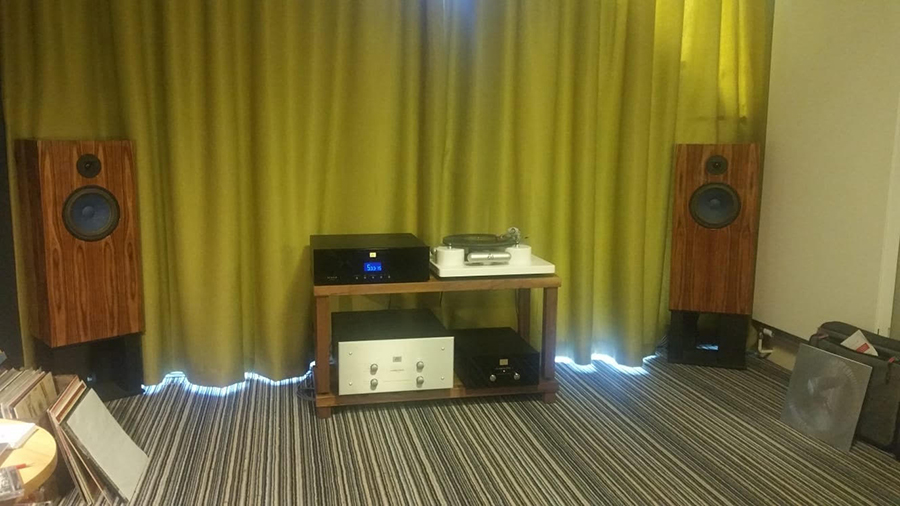 Audio Note room, demonstrating their new 3 motor record player
Missing Link room
The Chord Company room
Matthew Delaney of Meridian, showing new and vintage systems