Glasshouse Seiden 34 Way Stepped Attenuator, Shunt version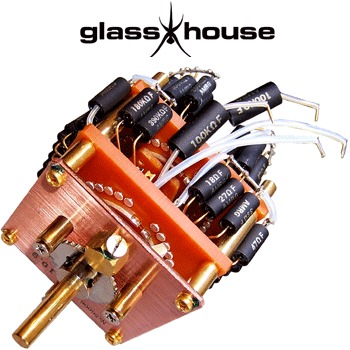 To compliment the amazing Seiden 1 pole and 2 pole 34-way switches we are proud to offer a version of the Glasshouse stepped attenuator range in SHUNT format. This amazing make before break switch is ideal for making stepped attenuators. Due to its larger size, we are able to fit the larger of the ranges of resistors we carry.  
We are offering a choice of 7 resistor types, though bear in mind you can always buy the all-important Series (load) resistors separately, like the outstanding Charcrofts. We have the 0.5W and 1W of the audio grade Takman carbons and metals, the 0.5W and 1W Audio Note Tantalum and finally the 0.75W Amtrans AMRG carbon films. Have a read of Neville Robert's article below the used the AMRGs. (Please note that the Amtrans version is only available in 50K, 100K and 250K.
The stepped attenuator is available in the mono version (1 pole 34-way switch) and the stereo version (2 pole 34-way switch). It is available in kit form or fully built and tested. All parts are provided for assembly, including solder.
Internal dimensions, stereo version 71mm x 71mm x 85mm (depth), mono version 71mm x 71mm x 57mm (depth)

PRICE (1 off) 10K, 20K, 50K, 100K & 250K (10K & 20K not available with Amtrans)
start from £164.90+vat+p&p
Subscribe to Hifi Collective