Khozmo Stereo Ladder Stepped Attenuator, 48 step, SMD - DISCONTINUED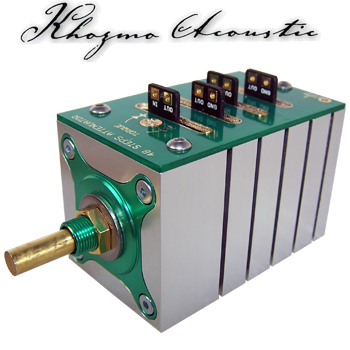 Khozmo Stepped Attenuator, Stereo, 48 steps, SMD Ladder version.
Ladder type stepped attenuator
This is where 2 resistor and 2 switch contacts are used per step, making up a unique combination of resistors per step that add up to the impedance of the stepped attenuator you use. Effectively a voltage divider network.
The total series resistance of each two resistor set is equal, so the signal source always sees the same impedance. 
Switching type: MBB (Make Before Break) 
Number of steps: 48
Attenuation range: -60 dB ... 0 dB
Attenuation per step: steps 1 to 11 - 2dB, 12 to 48 - 1dB
Contact material: Hard gold 
Polished wiper and contact pins
Extremely short signal path
Channel matching: +/-0.1 dB
Resistance: 5K, 10K, 25K, 50K, 100K, 250 kohm
Mechanical life: > 50 000 cycles
CNC machined PA11 aluminium body
Precision ball bearing support
Shaft diameter x length: 6mm x 15mm
Bush diameter x length: 9 mm x 10mm
body dimension: 52mm (height, including exposed PCB) x 42mm (width) x 69mm (depth, front to back)
Indexing angle: 7,2 deg
Available in 10K and 100K versions.
The resistors are Royal Ohm SMD 1% 1/10W, thin film, metal, surface mount. The stepped attenuator offers incredibly good value and outstanding performance.
How to change torque: Use a 2mm hex key (allen key). Set the position to 24 (start from zero volume and turn up) insert the hex key. Turn clockwise to increase torque and anti-clockwise to decrease torque.
Price (each)
£165.00+vat+p&p
Subscribe to Hifi Collective