Khozmo Stereo Shunt Stepped Attenuator, 48 step MKII - DISCONTINUED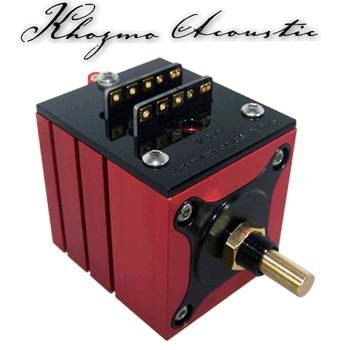 Khozmo Stepped Attenuator, Stereo, 48 steps, SMD Shunt version, MK2.
SHUNT type: Only two resistors in signal path
Switching type: MBB (Make Before Break)
Number of steps: 48
Attenuation range: -60 dB ... 0 dB
Attenuation per step: steps 1 to 11 - 2dB, 12 to 48 - 1dB
Contact material: Hard gold, Entire signal path is gold
Polished wiper and contact pins
Extremely short signal path
Channel matching: +/-0.1 dB
Shunt resistors: Royal Ohm SMD 1% 1/10W, thin film, metal, surface mount.
Series resistor (load resistors): 0.75W Amtrans AMRGs, or upgrade to Charcroft Naked Z-foils, buy these additionally.
Mechanical life: > 50 000 cycles
CNC machined red anodized full metal body
Precision ball bearing support
Shaft diameter x length: 6mm x 10mm
Bush diameter x length: 9 mm x 10mm
body dimension: 52mm (height, including exposed PCB) x 42mm (width) x 50mm (depth, front to back)
Indexing angle: 7.2 deg
Chassis earth connection on rear of PCB.
impedances available - 10K, 20K, 50K, 100K and 250K
The Mark II version from Khozmo is now supplied with the 0.75W Amtrans AMRG carbon film resistor as standard for the all important series, load resistor. Please note that will be supplying 10K resistor for the 10K verison, the 20K resistor for the 20K version, 51K for the 50K version, 100K for the 100K version and 240K for the 250K version. Please do not be concerned by the differences in resistance. The difference will be in-audible. The series, load resistor can be easily upgraded to other favoured resistors, such as the Charcroft Naked "Z-foil". Simply add this to your cart when you order and we will fit it to the stepped for you. The shunt resistors are Royal Ohm SMD 1% 1/10W, thin film, metal, surface mount. The stepped attenuator offers incredibly good value and outstanding performance.
We do supply with fitted Series resistors. PICTURES DO NOT SHOW SERIES RESISTORS FITTED.
How to change torque: Use a 2mm hex key (allen key). Set the position to 24 (start from zero volume and turn up) insert the hex key. Turn clockwise to increase torque and anti-clockwise to decrease torque.
Price (each)
£120.00+vat+p&p
Subscribe to Hifi Collective