Caddock MK132V Precision Thick Film Resistors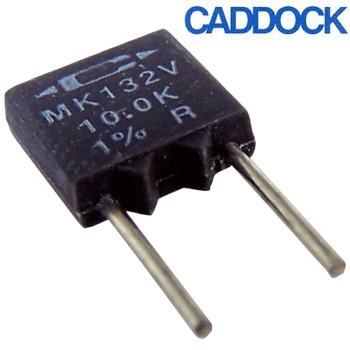 Thick Film Resistors radial leaded, precision metal film from Caddocks have been around for many years now and have been recognised as excellent sounding resistors in Audio.
We find them especially good as the input resistors in our Glasshouse Series Shunt stepped attenuators and they are also used heavily in the Khozmo range of attenuators. They give a clean, detailed sound.
They are a lower cost alternative to the Z-bulk foils from Charcroft.
Constructed with Caddock's Micronox® resistance films fired onto a solid ceramic substrate, Type MK Precision Film resistors combine all of these outstanding advantages:
Power Rating: 750 mW (3/4 W)
Voltage Rating: 400 V
Tolerance: +/-1%
Operating Temperature: -55°C to +175°C
Full Power Rating at +125°C
Temperature Coefficient =< 50 ppm/°C
Extended Life Stability is Typically Better Than 0.1% per 1,000 Hours
Non-Inductive
Non-magnetic
DIMENSIONS:
  BODY: height: 7.37mm, length: 7.37mm, width 2.41mm
  LEAD: diameter: 0.64mm, length: 7.5mm, lead spacing 5.08mm
PRICE:
(1 off) from £3.07 to £4.48 + vat
Subscribe to Hifi Collective