Duelund Standard Graphite Silver Resistors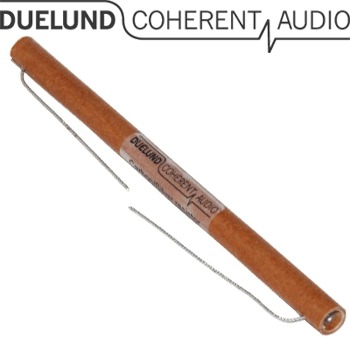 These resistors are specifically designed for loudspeaker crossover use. Constructed from a graphite rod with silver terminals in a phenolic cylinder for protection. They have practically zero inductance, with a 5% tolerance.
The special characteristic of this resistor is that it displays a negative temperature coefficient. For example, when the voice coil of a speaker heats up, its impedance rises. The DUELUND Graphite Resistor counteracts this by means of a decreasing impedance. The results are greatly improved dynamics from the driver.
Dimensions:
Diameter = 8mm, length = 65mm to 135mm.
5W length could vary to dimensions listed on site - only shorter
Power Ratings:
These come in 5W or 10W depending on resistance.
THE DUELUND STANDARD RESISTOR RANGE HAS BEEN DISCONTINUED BUT WE STILL HAVE A LARGE AMOUNT OF STOCK AVAILABLE
If you are looking for a specific value, we have added a RESISTOR FILTER to speed your search up.
PRICE: £14.50 +vat +p&p
Subscribe to Hifi Collective