Jupiter Silver Foil - Comet Paper-in-Oil Capacitors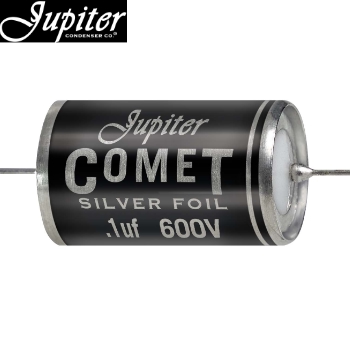 Ultra-Fidelity. Silver foil recreates a great sense of space, recording height, width and depth are very much more apparent with a great sense of ease and a powerful flow. Weight and dynamics are expressed effortlessly, musical air fills the room like no other capacitor. Jupiter Silver Foil types are the most musical capacitors available at any price.

Comet Capacitors feature true hermetically sealed cases with mineral oil impregnation construction that dates back to the 1940's. Mineral Oil delivers more transparency and dynamics, with deeper and tighter bass accompanied by a more vivid presentation.

Paper in oil construction is one of the original and most reliable oil types. Jupiter uses the finest quality highly refined USP-grade mineral oils. Hermetically Sealed and processed under a deep vacuum for several days. Hermetic sealing keeps oil from leaking out and provides protection from ingress of moisture to ensure long life.

Glass to metal end seals are soldered into tin-plated brass tubes to form leak-tight joints. Jupiter Silver Foil Comet capacitors are built to Mil-Spec standards yet developed and refined for sonic perfection.
Specifications:
Hermetically Sealed Silver Foil Paper-in-Oil Capacitor
Tolerance: +/- 10%
Operating Temperature: 85°C
Voltage: 600VDC 
Pure Silver Foil

Dielectric:

Paper in Oil

Oil Type: Mineral Oil

Leads: Pure Silver Wire 5N

Made in the USA of materials from USA and Germany. 
Subscribe to Hifi Collective