Jupiter VT Aluminum Foil Wax & Paper 100V Capacitors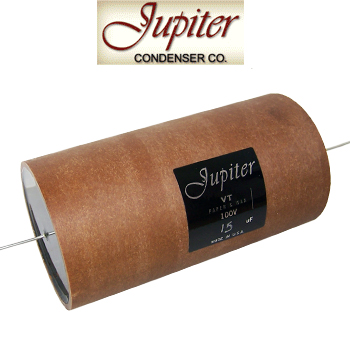 The all-new Jupiter VT 100V Aluminium Foil Wax paper caps are replacing their range of flat stack capacitors, being cylindrical in shape they are easier to fit and offer improved dampening over the Flat stack version. Specifically designed for loudspeaker crossover use.
The line on the label indicates the outermost foil and should be connected to the lowest impedance path to ground.
Specifications: 
Tolerance ±5% standard
Leadout dimensions:

1uF - 6uF: 1.1mm diameter

6.8uF and up = 1.65mm diameter

Rated voltage 100Vdc
Tinned OFC copper 1mm diameter
Max temperature +80°C
Wax impregnated Paper dielectric
Aluminum Foil electrode material
Cryogenically treated
RoHS
Subscribe to Hifi Collective