Jupiter HT Flat Stacked Paper Beeswax Cryo - DISCONTINUED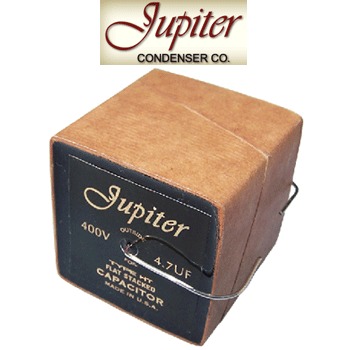 Jupiter Condenser has applied the same materials and processes used to make their successful HT line of capacitors to make their all-new Flat Stacked capacitors. They feature a reinforced beeswax paper dielectric (with further improved impregnation techniques) and cased in a non-drip/melt casing and can withstand higher operating temperatures. The Flat Stacks offer a high DC voltage rating, 1uF to 4.7uF at 600Vdc and 300Vdc on capacitance above 4.7uF. It can be used as decouplers in valve amplifiers and in loudspeaker crossovers.

For productions, a computer-controlled wax vacuum impregnation system was engineered and built by Jupiter Condenser, and section processing is based on techniques developed by Western Electric and RCA. This is capable of deep vacuum and high pressure, providing consistent impregnation with more gas and moisture removal. New proprietary measures of strengthening dielectric properties have been developed and employed which yield higher insulation resistance and allow greater operating temperatures. Wax and paper construction yields a very well mechanically damped capacitor, free from electrostatic and mechanical ringing.
They have been replaced by the new HT Beeswax Paper Capacitors Cryo range
Specifications
capactiance: 1uF - 15uF
voltage: 1uF to 4.7uF 400Vdc, above 4.7uF 300Vdc
Tolerance ±5% standard
Rated voltage 600Vdc up to 4.7uF - 6.8uF and above 300VDC
Pure silver leadouts 20 AWG (0.812mm dia.)
Max temperature +70°C
Beeswax impregnated Paper dielectric
Aluminum Foil electrode material
Subscribe to Hifi Collective