Kiwame Resistors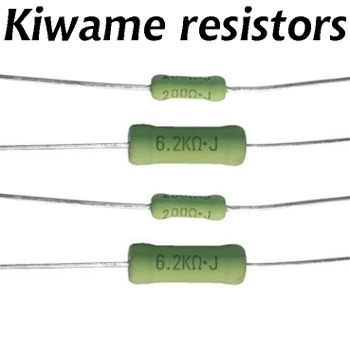 These are an excellent match for Hi-End Audio. Kiwame resistors are from Japan and are characterized by lower noise than metal film resistors and a more natural sound. There is a growing enthusiasm for these carbon film resistors because they recapture the vintage tube sound without the drift of carbon comps. They are also very compact given their wattage rating. The resistance material is a carbon film with coated silicon and finished in green.

Since their first introduction to the audio industry, they have managed to gain the reputation and the respect of both manufacturers and worldwide DIY-ers. In fact, several manufacturers openly suggest Kiwame resistors along with the 'usual suspects' (quality capacitors etc.) for the upgrade of their products. Lately, Kiwame resistors found another audio application, that of the step ladder attenuators used as volume potentiometers.
Browsing internet audio forums and DIY discussion groups proves that Kiwame resistors really make a difference! Kiwame resistors are made of carbon film and their case is actually the first one for use in audio applications with superior specifications! Considerably lower thermal noise levels, lower than metal film resistors! 
On the other hand, they offer true 0.5% tolerance despite their nominal E24-series 5% label! If you don't believe it a multimeter will certainly convince you. Their sonic character can be briefly described as follows: Effortless reproduction ('non-fatigued) is subjectively perceived as an increase of headroom. Extensive neutrality.
Characteristics
Material - Carbon Film
Resistor range - E-24 class
Wattage - 2W and 5W type, 750 volts DC max
Tolerance - +/-5% (actually +/-0.5%)
Insulation material - Silicon Resin
Body colour - Light Green
2W - (BODY) diameter-4.2mm, length-12mm. (LEAD) diameter-0.8mm, length-28mm
5W - (BODY) diameter-9mm, length-24mm. (LEAD) diameter-0.8mm, length-36mm
If you are looking for a specific value, we have added a RESISTOR FILTER to speed your search up.
PRICE 1 off
2W - £0.70+vat+p&p
5W - £1.55+vat+p&p
IMPORTANT NOTICE
Kiwame has ceased production of valves above 91K on the 2W version above 110K on the 5W version.
Subscribe to Hifi Collective