Pathaudio Resistors 10 Watt 1%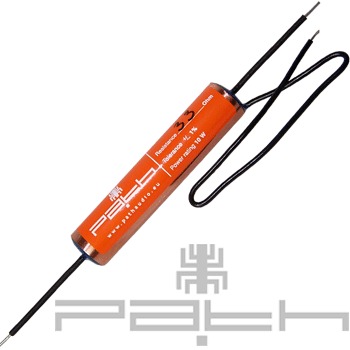 PathAudio Resistors - developed and designed for use in high-quality Hi-End Audio. Their design ensures excellent transmission of the full audio bandwidth, without audible distortions and an incredibly low noise floor. They have a wide frequency response with negligibly low impedance phase shift, providing superior quality audio processing. At 1% they have a very tight tolerance, a low-temperature coefficient, and high heat dissipation. This makes the PathAudio resistor one of the best medium power rated component for audio applications. Ideally suited to loudspeaker cross-overs.

The body is encased in copper, shielding the resistor body structure against RF interference and magnetic fields. This copper casing has a connected, flexible long lead out that should be joined to the ground / negative speaker post, to provide the best screening. This is not essential, however, and will work very well without being connected. The casing contains the highest quality resin, protecting the resistive element against vibration and the external environment. The resistive layer is made of a material having extremely low grain. They are non-magnetic and have incredibly low inductance.
Specifications
Values available 1R to 47R

10 Watt power rating Tolerance +/- 1%
Maximum voltage 1500 V
Non-magnetic
Ultra-low inductance
Body Dimensions (length x diameter) 60mm x 12mm
Signal leadout diameter 0.75mm, solid core, length 35mm
Ground leadout diameter, 0.55mm multistrand, length 200mm.
Now with additional values: 0R5, 6R2, 51R, 56R, 62R, 68R, 75R, 82R, 91R & 100R.
PRICE 1 off 
£18.75 +vat+p&p
Subscribe to Hifi Collective