Takman Metal Film Resistors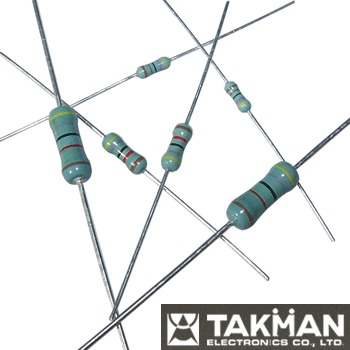 Extending the range of the incredibly popular TAKMAN resistors from Japan, Hificollective are proud to be stocking the full E24 range of the REY25, 0.25W, REY50, 0.5W metal film, both at 1% tolerance metal film resistor. We also have the full E12 range of the REY75, 1W resistors. A thoroughly modern manufactured resistor designed specifically for Audio.
Takman REY metal film resistor for audio equipment has the features that it consists of resistor thin film made mainly of Ni-Cr-Al materials, brass caps and non-oxygen copper wire. High-precision is realized with laser trimming and high stability and high sound quality are achieved with most proper coating. This resistor is usable for any audio components.
During development, TAKMAN recognised how sound is influenced by the various structures and materials used in manufacture. Magnetism, inductance, electrification caused by contact resistance and vibration make the sound flat and coloured. Ultimately you will hear an edgy brightness at the highs but overall a lack of accuracy and detail. To remove these incidental noises TAKMAN developed their first audio grade resistor, the MAESTRO, the predecessor to the REX (carbon film) and the REY (metal film). With outstanding specifications, TAKMAN, by making the best of their know-how and sophisticated technology of a resistor-specialized manufacturer have created the best resistor for your audio equipment or circuits seeking for unlimited high-quality sound.
Specification:
Low distortion
Non-magnetic
Brass end caps and oxygen free copper lead outs
Precise resistance tolerance (HFC stock the 1% range)
High reliablity
If you are looking for a specific value, we have added a RESISTOR FILTER to speed your search up.
PRICE 1 off
0.25W (REY25) - £0.45+vat+p&p
0.5W (REY50) - £0.65+vat+p&p
1W (REY75) - £1.15+vat+p&p
Dimensions
0.25W (REY25) - body L x D, 6.3mm x 2.6mm, leadouts L x D, 26mm x 0.6mm
0.5W (REY50) - body L x D, 9mm x 3.5mm, leadouts L x D, 26mm x 0.7mm
1W (REY75) - body L x D, 14mm x 5mm, leadouts L x D, 35mm x 1mm
Subscribe to Hifi Collective