EVGA Nu Audio Audio Card - Engineered by Audio Note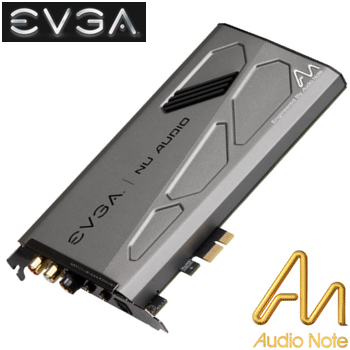 For nearly 20 years, EVGA has built the most powerful graphics cards to play your games at the highest settings, powerful motherboards to run your system at optimal settings, and reliably efficient power supplies to power your system. Now, EVGA extends its enthusiast tradition by partnering with Audio Note (UK), Ltd. to provide the most immersive audio and lifelike gaming experienced on a PC with EVGA NU Audio Card.
EVGA CEO Andrew Han loves his hi-fi -  he owns a vintage Western Electric horns, a dCS digital front-end, and Audio Note UK amplifiers. So with the Audio Note connection in place, he employed the help of Audio Note's head designer, Andy Grove to design the NU Audio Card.
The NU Audio Card has a multi-layer PCB with passive heatsinking and "isolated dual ground planes", to prevent electrical noise from infiltrating both analogue and digital sections. Audio Note UK's in-house developed capacitors and tantalum resistors feature in the card's fully-regulated power supply and analogue circuitry.
For the D/A conversion, there are pair of oscillators (one each for 44.1kHz and 48kHz families) clock an XMOS chip's output into an AKM AK4493 decoder chip (PCM up to 32bit/384kHz and DSD256) which in turn feeds the card's analogue output stage: an ADI AD8056 op-amp spills via a pair of RCA sockets and is fully rollable.
Rollable too is the ADI OPA275 dual op-amp that forms the backbone of the 6.4mm (variable) headphone output that offers an output impedance <1 Ohm. It's reportedly good for headphones rated between 16 Ohms and 600 Ohms.
For the volume control, EVGA's own software interfaces with the NU Audio Card's Maxim DS1882 controller for fully analogue attenuation. A TOSLINK output is there for those wishing to feed into an external DAC, though it would have to be rather good to beat this one.
The NU Audio Card also features an AKM AK5572-powered ADC, fed via a 3.5mm socket. For gamers, the all-important mic-in completes the EVGA card's feature set.
So if you listen to a lot of music using a computer or you are a hi-end gamer this is the sound card for you.
Specifications:
Audio DSP:
    •    XMOS xCORE-200
    •    Native DSD Support (up to x256)
Output Configuration:
    •    2 Channel (Analog)
    •    5.1 Channel (Digital via S/PDIF)
    •    Dynamic Range (DNR) / Signal-to-Noise (SNR):
    •    123dB (Stereo Playback)
    •    121dB (Line-In Recording)
Playback Format:
    •    Up to 384kHz, 32bit (Stereo)
    •    Up to 192kHz, 24bit (Optical)
Headphone Amp:
    •    16-600ohm (Independent Analog Control)
Maximum Voltage:
    •    8Vrms
Maximum Current:
    •    250mA
Recording Format:
    •    Up to 384kHz, 32bit (Line-In)
    •    Up to 192kHz, 24bit (Mic-In)
RGB Lighting:
    •    10 - Mode w/ Audio Reactive Lighting
    •    I/O:
    •    Stereo Out (RCA L/R)
    •    Headphone Out (6.3mm)
    •    Line-In (3.5mm)
    •    Mic-In (3.5mm)
    •    Optical Out (TOSLINK Passthrough)
    •    Front Panel Header
Premium Components:
    •    DAC - AKM AK4493
    •    ADC - AKM AK5572
    •    OP-AMP (Headphone) - ADI OP275
    •    OP-AMP (Line Out) - ADI AD8056
    •    Capacitors - WIMA, Audio Note(UK), Nichicon
    •    Power Regulators - Texas Instruments TPS7A47/TPS7A33 ultralow-noise power solution
Switchable OP-AMPs:
    •    Headphone, Line out
Interface:
    •    PCIe x1 Gen2
Power Connector:
    •    1x SATA Power
Supported OS:
    •    Windows 10, 8.1, 7
Price (1 off)
£235.41 +vat+p&p
Subscribe to Hifi Collective