CTS 1M log mono potentiometer - switch type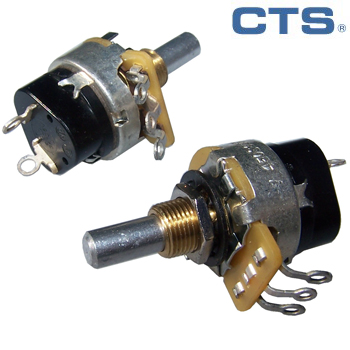 CTS push-pull type potentiometer/switch.
Potentiometer and switch all in one device, push-pull action of the shaft controlling the on-off of the switch (pull is on, push is off). The switch part is positioned at the rear of the device is a STSP (2 terminals), it is rated at 125V AC 3A, so it is not suitable for UK voltages. THe potentiometer is a 1M log type.
The potentiometer follows the standard CTS setup. 9.5mm diameter panel cutout, diameter of shaft is 1/4 inch (6.3mm) bush and shaft is 26mm in length when pulled, 22mm when pushed, bush is 9.5mm in length. CTS 041-TMG metal shaft, bushing mount wuth insulated plate, type "T" solder lug terminals.
Price (1 off): £7.08 +vat +p&p
Subscribe to Hifi Collective