8 Pin Power Plug & Socket - DISCONTINUED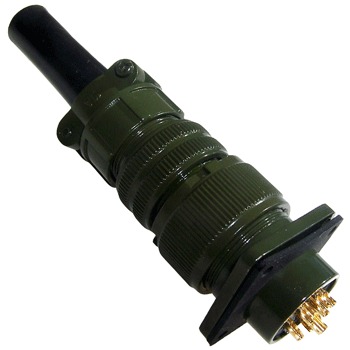 Aviation grade power plug and socket. Ideal for umbilical power cord use, allowing for 8 connections, enough for any valve amplifier PSU to Amplifier connection. Rated at 1500Vdc 6A. Pins are gold plated high copper content brass, with plenty of room between each pin for easy soldering. Secure screw lock connection between the plug and socket providing tight close contact. Non-magnetic, except for the cable clamp screws but these can be changed easily.
The plug portion can receive cables up to 16mm in diameter. Overall length, excluding cable insulator is 68mm. Widest diameter is 35mm in diameter. The plug is male.
The Socket is chassis mount and is built on a 4mm thick, 35mm square plate, The four fixing hole centres are on a 27mm square, each fixing hole is 3.5mm in diameter. A rubber insulation plate is also provided. The external portion of the socket is 29mm in diameter, 20mm in height. The internal portion is 25mm in diameter and 29mm in height. The socket is female.
Overall length of plug and socket fully joined together is 95mm.
Sold as a set, 1 plug and 1 socket.
PLEASE NOTE THIS IS A DIFFERENT DESIGN TO THE EARLIER MODEL.
PRICE 1 off
£26.50+vat+p&p
Subscribe to Hifi Collective