MS HD Power MS328G 13A UK mains plug, Gold plated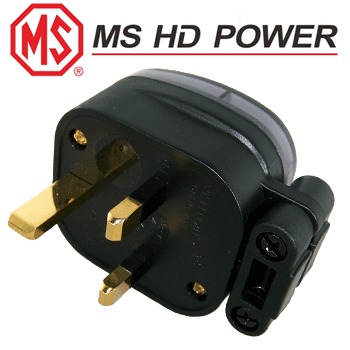 MS HD Power MS328G 13A UK mains plug, Gold plated

This high-quality UK 13A 3 pin plug has been designed to be used with audio equipment for optimum power transmission. All the electrical parts (polished pins and all internal parts) are made from premium quality copper, electroplated with 3um x 24G gold plating; the Fuse Clips are made of high spring rate Phosphor Bronze, again with 3.0µm x 24K Gold plating - and supplied with a 13A silver plated fuse, fitted.

The heavy-duty mains wire-clamps design ensures an airtight connection to ensure perfect power transmission and also protect the power cable wires from damage over time (inferior plugs secure the cables by the grub screws twisting down onto the cable directly and are prone to material 'creepage'). The plug will accept wires up to 4mm diameter - and clamp a cable of up to 16mm overall diameter.

The patented design allows for easy cable fitting (instructions provided) and the ease of cable fitting cannot be underestimated - it makes this plug so easy to use. The plug casing is manufactured from nylon material, with a semi-transparent top cover, offering durability, high insulation, and lightweight.
See the image below of the built example cable using the Audio Note ISIS Mains Cable, MS HD Power MS328 UK Plug, and Cardas 3455R IEC Plug.
This plug can receive a cable of 17mm in diameter. Each connector inside can receive a cable up to 6mm in diameter.
PRICE 1 off
£62.50+vat +p&p
Specifications
Compliance with: BS-1363 (plug), BS-1362 (fuse).
Laboratory certificated to BS1363-1 1995, through Intertec ETL Semko, certificate available as pdf, ask for copy if documentation required.
Mains voltage rating: 200~240 VAC x 
Size (Housing Only): Width 68mm, Depth 33mm, Height 68mm (inc. cable clamp)
Weight:100 grams
Packed in singles, display packing. Size packed: 70mm W x 60mm D x 105mm H, fitting instructions included.
Subscribe to Hifi Collective