Glasshouse Mains Cable No.1 (UK / Schuko Plug)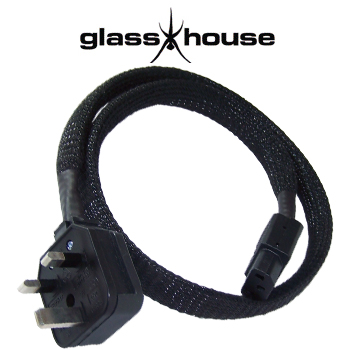 To celebrate the arrival of Duelund`s DCA12GA 600Vdc cable we have created a solderless Glasshouse mains cable kit featuring the Kaiser IEC plug (straight, right-angled and 90-degree version are optional) with the UK Permaplug or Kaiser Schuko EU plug - all plug types are silver plated. The kit is available in 4 lengths, 0.75m, 1m, 1.5m, and 2m, also we can build it up for you if desired for a £50.00 + VAT fee.
This is the perfect start-up kit for the beginner who would like to see first-hand the improvements that can be made with upgraded HiFi parts. No soldering is required as we are using the WBT-0434 cable end sleeves on this build; also the cost is incredibly inviting, only £36.53 + VAT for a 0.75m IEC lead with UK Permaplug.
To construct you will need the following:
Phillips screwdriver
Flathead screwdriver
Crimping pliers/pliers
Wire cutters
Heat gun
Multimeter
INSTRUCTIONS:
Cut your DCA12GA 600Vdc cable into 3 equal lengths.
Cut 2 x 1.5mm lengths of red heat shrink and 2 x 1.5mm of blue. As the wire is only available in black you need to mark the ends for wiring. So on one length of wire shrink the RED heat-shrink 4cm from the end of each end of the wire - this is the LIVE wire. Use a heat gun. For one length of wire shrink the BLUE heat-shrink at each end (4cm from each end) -this is the NEUTRAL wire. Leave the remaining wire untouched - this is the EARTH wire.
Strip 5mm of wire from one end of each wire length, be careful not to cut any of the strands. Use good wire strippers or a sharp Stanley knife. With your fingers slowly twist the exposed wire in the same rotation as it is made. Twist on in the same direction the WBT-0434 cable end sleeves with the slightly flanged end furthest from the wire end.
With crimping pliers crimp around the wire. Cut off the excess cable end sleeve that doesn't have any wire inside and round off ready for insertion later.
Do the same for the other 2 wires.
Open up the Mains plug and insert the wires in the correct location remembering your colour codes of the heat shrink from No 2, the Mains plug is marked, L for LIVE, N for NEUTRAL and an earth sign for EARTH.
There are 2 ways to gather the wire, twist or plait. If you want to twist then cut 4cm lengths of the 12.7mm heat shrink, 1 per every 20cm of cable length you are making. Hold the UK plug-in a vice. Slowly twist the wire, every 15 to 20cm of length shrink a 4cm length of heat shrink, this will keep the twist in form. If you want to plait the wire then put the Permaplug in the vice and plait away.
Cover the twisted or plaited wire with ABS sleeving. Cut 7cm of 12.7mm heat shrink and shrink at the mains plug end, allowing the heat-shrink to enter the plug but still have enough space for the plug to seal, keeping it neat. Fit the cable clamp and fit the 2 parts of the mains plug together.
Cut 7cm of the 12.7 heat shrink and place over the ABS for later.
Open up the IEC plug and line up the wires and trim if need be, remember to use the same colour codes and the IEC is marked up with L for LIVE, N for NEUTRAL and the earth sign for EARTH.
Strip 7mm of wire from one end of each wire length. Twist on in the same direction the WBT-0434 cable end sleeves.
With crimping pliers crimp around the wire. Cut off the excess cable end sleeve that doesn't have any wire inside and round off ready for insertion later.
Do the same for the other 2 wires.
Fit the terminated wire ends in the correct socket. Pull up the heat shrink and shrink to clean up the end. You can`t use the clamp in the IEC plug as the wires are too thick.
With the multimeter on the resistor, setting ensure that LIVE at the mains plug end is connected to LIVE at the IEC end. NEUTRAL to NEUTRAL and EARTH to EARTH. Ensure nothing else is connected. THIS IS VERY IMPORTANT
Now you are ready to plug in. Enjoy
Contents: (for a 1m mains cable kit):
3m Duelund DCA12GA 600Vdc tinned copper multistrand wire in Polycast sleeving
1 x Permaplug Silver Plated UK Mains Plug OR Kaiser Schuko EU Plug
1 x Kaiser Female IEC plug, Silver Plated (straight version, as shown in picture) OR 1 x Kaiser Female IEC plug, Right Angled, Silver Plated OR 1 x Kaiser Female IEC plug, C13 90 degree Angled, Silver Plated
50cm x HTSB12.7, Black heat-shrink 2:1, 12.7mm diameter (1m)
3cm x HTSB4.8,Blue heat-shrink 2:1, 4.8mm diameter (1m)
3cm x HTSB4.8, Red heat-shrink 2:1, 4.8mm diameter (1m)
6 x WBT-0434 Copper cable end sleeve, AWG 13, 2.1mm dia (5 for Schuko)
1m x ABS15: ABS Expandable Sleeving 15mm
Price (from)
£38.33 +vat +p&p
Subscribe to Hifi Collective