Psvane Black Treasure 300B-Z Valve, Gold Grid, matched pair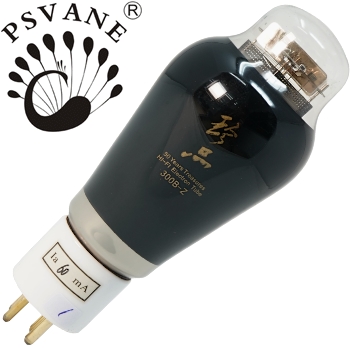 The Black Treasure 300B-Z  valves improved in structure for better dependability and Gold-plated pins to enhance connection over the long term.
High Polymer Compound Carbon (HPCC) coating is for the first time used in vacuum tube production. Compared to traditional carbon spray technology, HPCC coating will allow greater concentration of electrons, enhance and maintain the stability of the electron flow, maximize "secondary electron emission surpression" from the glass enclosure, in turn, reduce the effects of electron swirl which generates internal noises from the vacuum tube itself.
All parts are selected to the highest grade plus only highly experienced workers can assemble these valves.
For more information on this product please click HERE
For more information on PSVANE click HERE