Psvane MK2 T-Series KT88-T, Premium Grade Valve, matched pair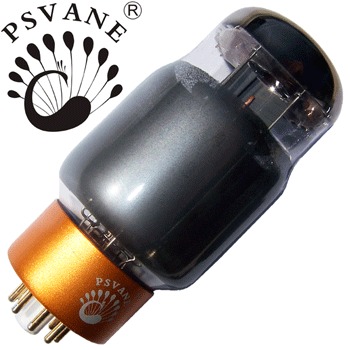 Here we have the best of the Psvane series, the MK2 T-Series version of the popular beam tetrode output valve.
Features of the Psvane MK2 T Series include the following:
The grey appearance on the glass is the the Crystallized carbon coating technology as patented by Psvane Audio in China and pending abroad. The benefit of the Crystallized Carbon coating will improve on absorbing random electrons inside the vacuum tube and dissipating heat more efficiently under extreme temperature, which will further enhance the stability of the vacuum tubes.
The bases are constructed of teflon, this provides low conductivity and physical stability. The bases are shrouded in an amber coloured anodised aluminium collar to reduce corrision to give a long lasting quality finish.
On the base you will find the Psvane logo and a serial number engraved on the base.
A higher quality glass is used for the MKII series to increase the reliability and stability.
The MKII series offers superb sound quality. The new coating materials offer an even better music presentation. Even compared to the great sounding Mark I T-Series you will experience slight 3D imaging improvement, layering and clarity.
Each valve pair is supplied in an individual grey box marked T-Series. Available in matched pairs.
For more information on this product please click HERE
For more information on PSVANE click HERE