F&T Electrolytic Type LF Radial Capacitors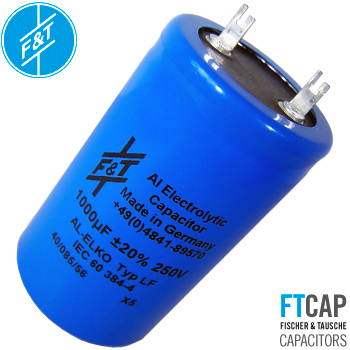 From German capacitor makers, F & T, we have the Type LFA range of electrolytic radial capacitors, offering high reliability and high ripple current. Solid constuction with all-welded contacts and welded solder tags.
numerous voltages and values available.Very popular with customers repairing or upgrading valve ewquipment. All at an affordable price. 
Specification:
Temperature range: -40 degree C to +85 degree C
Available values: 56uF to 330000uF
Available voltages: 16V to 500Vdc
Tolerance: +/- 20%
Maximum reverse voltage: 2V
New Values: 100uf 350v, 100uf 500v and 150uf 160v
If we do not list the value you require please send us an e-mail at info@hificollective.co.uk
Subscribe to Hifi Collective