Nichicon KG Type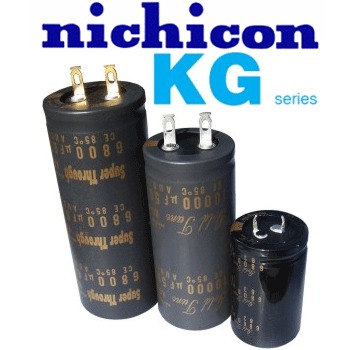 Designed for high-grade audio equipment, giving priority to high fidelity sound quality. Suitable for power supplies, excellent performance, and long life.
There are 4 types available:
Gold Tune, Snap-in: The low profile, high tone quality grade of the new development electrolyte adoption.
Gold Tune, Solder Lug: The center grade that the best sound is provided electrode foil, with the multiple-use.
Super Through, Solder Lug: The highest tone quality grade by the low drag the gold plating terminal adoption.
Technical specifications:
Body type: Radial
Category Temperature Range: –40 to +85°C
Rated Voltage Range: 16V to 100V (Gold Tune), 16V to 100V (Super Through)
Rated Capacitance Range: 680uF to 33000µF
Capacitance Tolerance: ±20% at 120Hz, 20°C
Subscribe to Hifi Collective