Vifa BC25SC06 4 ohm Tweeter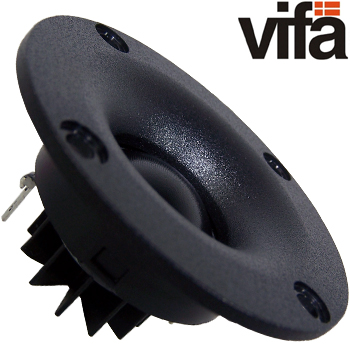 The Vifa BC25SC06 is a smooth-sounding compact soft dome tweeter. Extremely efficient for it's size, this tweeter features a neodymium motor, heatsink fins, and round faceplate.
The BC family of tweeters features a damped fabric dome for smooth frequency response performance and ferrofluid in the gap of the NdFeB magnet motor, providing enhanced cooling of the voice coil. BC tweeters come with a compact faceplate with recessed mounting holes, complete with sealing gasket which helps reduce vibration between baffle and driver. 
Specification:
Tweeter Type Soft Dome
Cone / Dome Diameter 1"
Impedance 4 ohms
Power Handling (RMS) 50 Watts
Frequency Response 1,350 to 30,000 Hz
Sensitivity 96 dB 1W/1m
Resonant Frequency (Fs) 1,350 Hz
DC Resistance (Re) 2.9 ohms
Mechanical Q (Qms) 2.80
Electromagnetic Q (Qes) 2.30
Total Q (Qts)1.26
Overall Outside Diameter 2.75"
Cutout Diameter 1.70"
Depth 1.25"
Price: (1off)
£14.31 +vat +p&p
Subscribe to Hifi Collective