Cube Audio Bliss C loudspeakers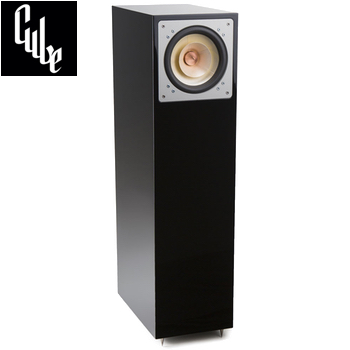 Cube Audio Bliss C is a full-range driver loudspeaker based on Cube Audio Fc8 drive unit. It is a unique loudspeaker capable of creating a fabulous listening experience. The state of art full-range drivers combined with a very effective backloaded horn enclosure, resulting in a real blissful experience. The modern, elegant design and high-quality black or white piano finish make them a beautiful addition to any home. All drivers and loudspeakers are hands assembled in Poland. Pursuing the highest quality and component longevity, the manufacturing process involves both artisan craftsmanship and precise computer-controlled CNC machines.
Reviewers say - "Next to the phenomenal presence and lucidity, the other great strength is this immodest box has quasi-holographic sound staging. The Bliss C`s folded horn generated a more tangible pressure wave off the floor, giving its bass more pluck and resistance. Though the 1-metre cab made it counter-intuitive and unexpected. Its keen quarter wave loading really did manage a perfectly satisfying extension." - Srajan Ebaen, 6moons.
Have a read of the Cube Audio Awards page  HERE.
To read about the other finished loudspeakers in the range click HERE.
If you wish to audition any Audio Cube loudspeaker, please contact one of the following
07956 570944
or 
https://nintronics.co.uk/brands/cube-audio.html
Specifications
Parameters
​Power: 40 W
Efficiency: 90 dB
Frequency response: 36 Hz - 23kHz ( 6db)
* Frequency response may vary and depends on room size and accompanying electronic equipment.
Speaker dimensions:
Width / depth / height = 25cm x 40cm x 100cm
Weight = 26kg
Sold as a pair, cabinet available in white or black, driver units available in white or black
£4725.18 + vat + P&P
Subscribe to Hifi Collective