Metalized Polyester Film DME Orange Drops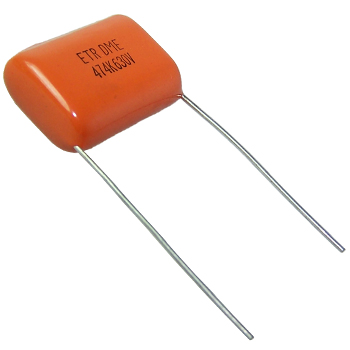 630Vdc rated metallized polyester film capacitors dipped in orange epoxy like the old sprague orange drops. Made by ETR, world renowned producer of film capacitors with production facilities that are ISO9001 & 14000 certified. ETR film capacitors 100% RoHS compliant and approved by UL and VDE. ETR is OEM supplier with major customers such as CDE (Cornell-Dubilier), Sony, National, Canon, APC, LG, LEO, Bosch, B&D, Askey and HP. Large range of values available from 0.1uF to 1uF.
These capacitors would suit constructors on a budget or those who wish to experiment with lower cost capacitors before upgrading. They offer a good all round sound and are highly regarded components.
Highest quality DME Metallized Polyester Film Construction.
Highly reliable with "Self-Healing" performance.
Epoxy dipped Orange Dips, for superior heat, moisture and solvent resistance.
Non-Inductive / Extended Foil Construction.
EXTRA Long copper-ply (30mm) radial leads for easy "under chassis" installation.
Space saving compact size body.
Good solderability.
Operating temperature range:-40 to +85C
Capacitance tolerance +/- 10%.
Rated Voltage: DC 630 Volts
Testing Voltage: 160% of rated voltage for 60 seccond ie over 1000 volts for 1 minute.
Capacitance Range: All sizes 0.01uF thru 1.0uF (for under 0.01uF see the Polypropylene orange drop capacitors)
Dissipation Factor at 1KHz =< 1%
Insulation Resistance(min) C=<0.33,RV=<100V:15000Mohm ; C>0.33,RV=<100V:5000Mohm.uF ; C=<0.33,RV>100V:30000Mohm ; C>0.33,RV>100V:10000Mohm.uF
Excellent reputation in use for DC blocking, coupling, filtering and by-pass in communications equipment, timing circuits and general purpose usage.
ISO 9001 & 14000 certified.
 RoHS Compliant
Subscribe to Hifi Collective