Metal-Foil Polypropylene Film PPN Orange Drops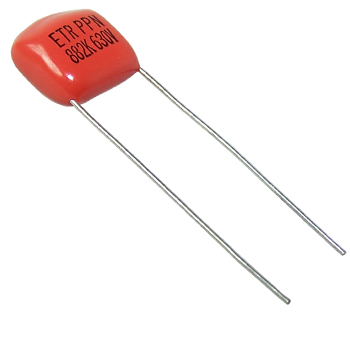 630Vdc rated polypropylene metal foil capacitors. Dipped in orange epoxy like Sprague orange drops used to be. Made by ETR, world renowned manufacturer of high voltage ISO approved film capacitors. ETR is OEM supplier with major customers: CDE (Cornell-Dubilier), Sony, National, Canon, APC, LG, LEO, Bosch, B&D, Askey and HP. The values available are 0.001uF to 0.0088uF.
A commonly used capacitors for constructors on a shoe string as they are low cost items. However they wil give you a great performance. Also popular for testing of freshly built equipment before fitting expensive capacitors.
Premium quality PPN Polypropylene Metal-Foil construction.
Electrode and lead spot welded, equivalent series resistance (ESR) minimized.
Rated Voltage: 630 Volts DC
Epoxy dipped Orange Dips for superior heat, moisture and solvent resistance.
Non-Inductively Wound
EXTRA Long (30mm) copper-pry radial lead wires for easy "under chassis" installation.
Good solderability.
Test Voltage: 200% of Rated Voltage for 60 sec (ie 1260 Volts for one minute)
Operating temp. range:-40 to +85 C.
Capacitance tolerance +/- 10%.
Stable against high frequency and change of temperature.
Capacitance Range: All sizes 0.001uF thru 0.0088uF, for values above see the Polyester orange drops.
Low dissipation factor and high insulation resistance
Dissipation Factor at 1KHz =< 1%
Insulation Resistance(min) C=<0.1uF:30000Mohm ; C>0.1uF:3000Mohm.uF
Excellent stability for High Frequency / High Current / Timing Circuit / Temp. Compensation Applications.
ISO 9002 & 9001 certified.
Subscribe to Hifi Collective