Ampohm Tin Foil, Paper in Oil Capacitors - DISCONTINUED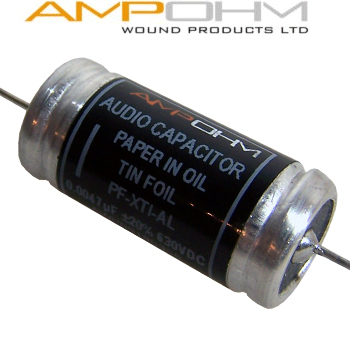 AMPOHM Audio Capacitors are specially designed for high performance audio systems, used in various applications. These paper in oil (PIO) capacitors are hand wound using tin foil and have their 1.0mm diameter (0.8mm diameter 0.068uF and below) tinned copper leads hand solder sealed to the eyelets in the end discs. They are oil impregnated before being oil filled and hermetically sealed in an aluminium housing with phenolic resin and rubber end discs, all being individually hand tested. These caps are well suited for signal and crossover work.
Please note Ampohm ceased trading in December 2010.
Subscribe to Hifi Collective