Rike Audio S-Cap 2 Aluminium foil, paper-in-oil Capacitors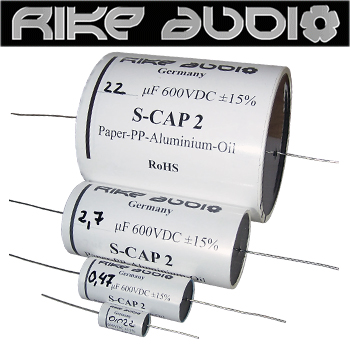 Rike Audio is based in Germany and manufacturer seriously high-end valve equipment. To help them achieve the sound they wanted they decided to create their very own paper in oil capacitors. George Arsine and his team have updated the S-cap and have now launched the Rike Audio S-Cap 2. A truly powerful and dynamic sound over the entire frequency band. These are even better than the originals.
The S-Cap 2 is manufactured in Germany, employing experienced capacitor winders using high-quality materials and modern methods of manufacture. Continuous advancement in a state of the art production and research environment ensure the constant top-level product quality. Primarily the S-Cap 2 is an Aluminium paper in oil with a double-layered dielectric, it is designed for 630Vdc rated use and has 15% tolerance. Every capacitor is tested with a test voltage of 1600Vdc.
The line on the body of the capacitor marks the outer foil end. This end should be wired to the signal input, DC & AC voltage end.
Please note the quality and alignment of the label are not perfect on the body of the capacitor.
Specifications
Capacitance range 0.01uF to 22uF
Temperature range -25 to +80°C
RoHS compliant, lead-free
Voltage rating 600Vdc
Subscribe to Hifi Collective