Sprague 715P/716P/418P Polypropylene Film/Foil Orange Drops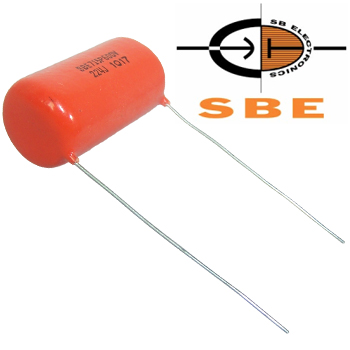 Sprague-Barr Electronics, SBE Inc. have a huge following for audio capacitors. They designs and manufacture some of the most reliable film capacitors available today. Their "Orange Drop" capacitors have been around since 1959 and continue to grow in popularity for great sounding, low cost audio capacitors. They offer excellent stability, virtually linear temperature coefficient.
The 715P series are constructed of polypropylene film, single section, non-inductively wound with extended foils.
Characteristics
Extremely low dissipation factor.
Superb high frequency response.
Excellent stability, virtually linear temperature coefficient.
Operating Temperature: -55 to 85 degrees centigrade (+105 degrees with derating)
Lead Wire: Tinned copper-clad steel, 0.8mm diameter (AWG 20)
Dissipation Factor: See table in datasheet
Encapsulation: Conformally coated. flame-retardant epoxy to UL94V-2
Voltages available: 400Vdc and 600Vdc
Values available: 0.0001uF to 0.39uF
Please Note: Some values are now stocked as the 716P variant - these are the same spec but have tinned copper leadouts and not tinned copper clad-steel leadouts.
Subscribe to Hifi Collective